Ecologic Institute Newsletter No 243 – December 2022
Clearingstelle EEG|KWKG
Ecologic Institute Newsletter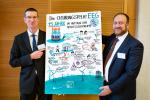 Clearingstelle EEG|KWKG: 15 years of providing legal security for the energy transition
Dear reader,
The Clearingstelle EEG|KWKG is a unique institution in the German legal landscape. It clarifies technical and legal issues, settles disputes, and has thus become an essential center of competence for experts, plant operators, grid operators, and anyone looking for legal and technical expertise in the rapidly changing energy system. It is now celebrating its 15th anniversary.
The institution offers clarification on complicated matters in the energy sector regarding the Renewable Energy Sources Act (Erneuerbare-Energien-Gesetz, EEG), the Combined Heat and Power Act (Kraft-Wärme-Kopplungsgesetz, KWKG) and the Metering Point Operation Act (Messstellenbetriebsgesetz, MsbG) to save those affected from having to go to court. It arbitrates between the actors in the energy industry, that is, the plant and grid operators, direct marketers, and metering point operators. Between 2007 and 2022, the Clearingstelle received around 15,500 inquiries. Roughly three quarters relate to photovoltaic plants, followed by biomass (8%), CHP and wind (3% each) and water (2%).
The Clearingstelle provides equal access for everyone. Over the course of 15 years, the experts at the Clearingstelle have clarified, settled, and specified many technical and legal issues. Over 4,000 entries are listed in the Internet database on the homepage. This database is the largest freely accessible collection of legal cases on renewable energies and combined heat and power in Germany.
Ecologic Institute has played a pivotal role in launching the Clearingstelle in 2007. The operating company of the Clearingstelle is a 100% subsidiary of Ecologic Institute. Even though the Clearingstelle operates independently in terms of content, both are united in their mission to ensure the success of the energy transition.
Whenever you have questions concerning the EEG, KWKG or MsbG – please do not hesitate to contact us!
Dr. iur. Martin Winkler
Scientific Director of the "Clearingstelle EEG|KWKG" and Managing Director of RELAW GmbH
Ass. iur. Sonja Kahl
Researcher of the "Clearingstelle EEG|KWKG"