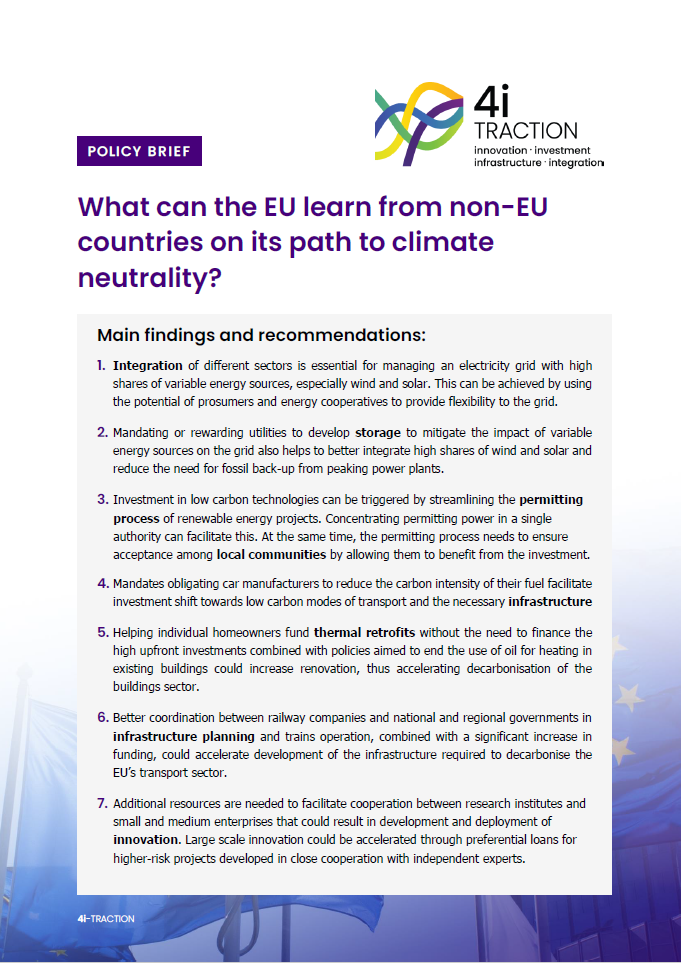 What Can the EU Learn from Non-EU Countries on its Path to Climate Neutrality?
Publication

Citation

4i-TRACTION (2022): What can the EU learn from non-EU countries on its path to climate neutrality? 4i-TRACTION Policy Brief. Climate Analytics, Berlin.
This policy brief summarizes the results of 17 case studies of non-EU countries. It presents the main lessons and takeaways for the EU along the four challenges that define the 4i-TRACTION project: facilitating integration across sectors, shifting investments, rolling out infrastructure and fostering innovation for a climate-neutral economy.
With the adoption of the European Green Deal and the European Climate Law, the EU has set a target to cut its emissions by at least 55% by 2030 below 1990 levels and reaching "climate neutrality" by 2050. The existing regulatory framework is mostly geared at incremental progress, but reaching this target will require transformative change.
When adapting its policy framework to meet the 2030 and 2050 emissions reduction goals, the EU can learn from the experiences of other countries that have already taken steps towards transformative change in energy, transport or building sectors. This is especially important against the background of the ongoing energy crisis, which requires the EU to wean itself off fossil fuels much faster than expected.
While the experiences of other countries cannot be directly transferred, the EU can nonetheless draw insights and inspiration from some good practice policy examples presented in this brief.
Contact