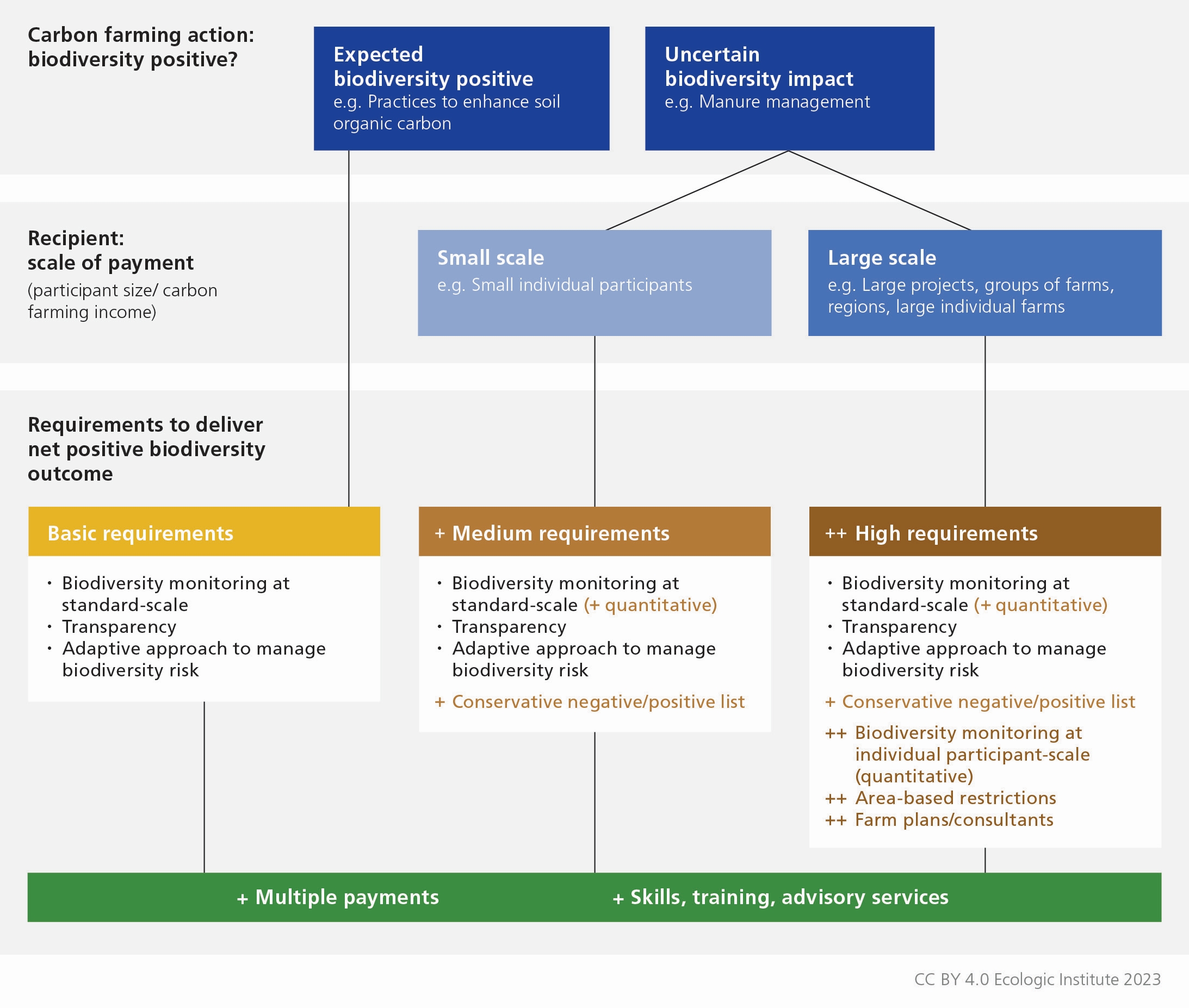 Recommended Approach to Enhance Biodiversity Through Carbon Farming Funding
Publication

Citation

Ecologic Institute 2023: Recommended approach to enhance biodiversity through carbon farming funding. Infographic CC-BY 4.0.
The growth in carbon farming standards – as illustrated by the EU Commission Carbon Removal Certification Regulatory Framework – poses a particular risk and opportunity for biodiversity. Our assessment of ten carbon farming standards in the report "Carbon farming co-benefits. Approaches to enhance and safeguard biodiversity" has shown that none of them include all the approaches and requirements that are necessary to prevent negative effects on biodiversity and ensure net positive gain of biodiversity objectives.
Drawing on our evaluation of ten existing carbon farming standard approaches to safeguard and promote biodiversity, this infographic proposes a differentiated approach to safeguarding and enhancing biodiversity in carbon farming standards. This takes into account two key factors:
Uncertainty in biodiversity impact – Different carbon farming actions have different expected impacts on biodiversity: carbon farming actions that may have uncertain biodiversity impacts should be more carefully managed.
Scale of project – Small or large – Larger, more lucrative carbon farming projects and participants will have larger impacts on biodiversity, will not be deterred by higher biodiversity requirements, and should therefore face more stringent requirements.
The infographic is licensed under a Creative Commons CC-BY 4.0 license, i.e. it may be used and adapted if Ecologic Institute is named as the author.
Contact