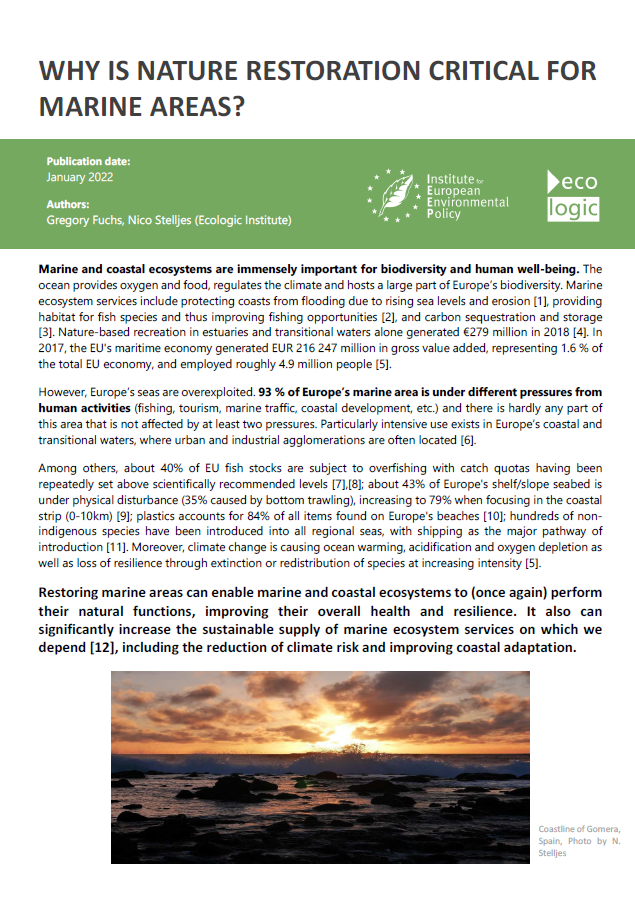 Why is Nature Restoration Critical for Marine Areas?
Publication

Citation

Fuchs, Gregory; Stelljes, N. 2023: Why is nature restoration critical for marine areas?. IEEP, Ecologic Institute: Brussels, Berlin.
The EU Commission published its proposal for a new Nature Restoration Regulation in June 2022. In this context, Ecologic Institute and IEEP – as part of the Think Sustainable Europe network – published a series of thematic policy briefs to inform Members of the European Parliament and other policy-makers about a variety of topics relating to nature restoration.
This policy brief explores the potential and benefits of marine restoration, as proposed in the regulation. Marine and coastal ecosystems are immensely important for biodiversity and human well-being. Restoring marine areas can enable the respective ecosystems to (once again) perform their natural functions, improving their overall health and resilience. It also can significantly increase the sustainable supply of marine ecosystem services on which we depend, including the reduction of climate risk and improving coastal adaptation. Currently however, the state of the European seas is mostly poor, and biodiversity loss has not been halted, it is even worsening. 93% of Europe's marine area is under different pressures from human activities (fishing, tourism, marine traffic, coastal development, etc.), which often compound each other. Faced with increasing threats, urgent action is needed to restore marine habitats to good condition through large-scale restoration of marine ecosystems. Improvements can be achieved through increased efforts and specific targets, such as those for marine areas under the NRL.
Contact