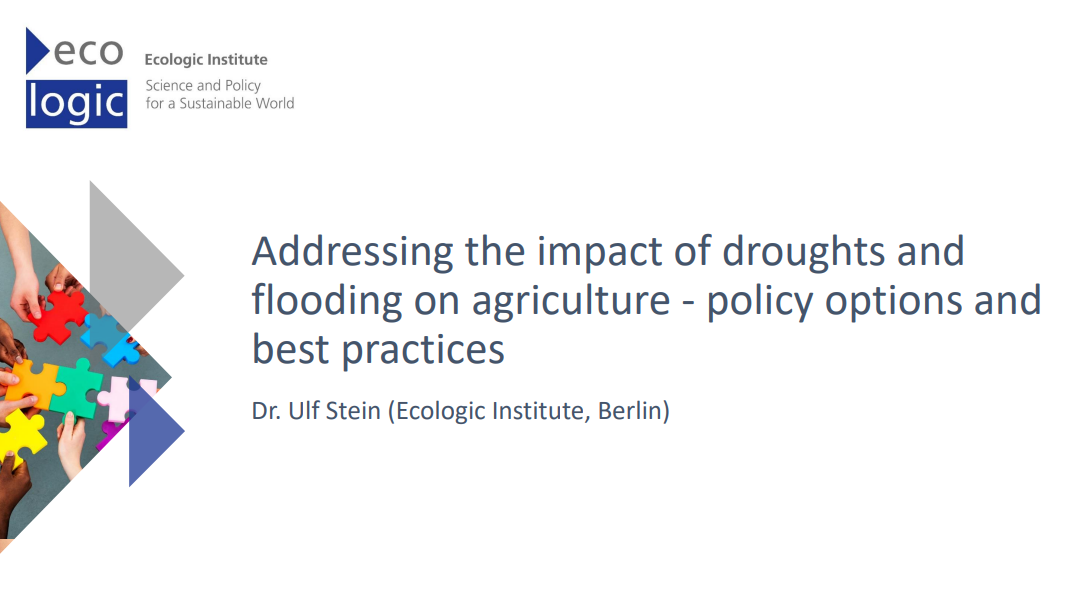 Addressing the Impact of Droughts and Flooding on Agriculture
Policy options and best practices
Presentation

Date

Location

Brussels, Belgium

Speech
At the Expert Hearing in the European Parliament on "Sustainable management of water and resources in agriculture" on 25 April 2023, Dr. Ulf Stein, Senior Fellow of Ecologic Institute and Coordinator of the Water Studies, was invited as one of four experts. The aim of the event was to speak on the relationship between agriculture and water management in the context of the increasing scarcity of water resources due to climate change. The talk aimed to explore best practices and policy options that can help manage agriculture's impact on water resources, as well as address challenges to agriculture due to weather events such as droughts and floods.
In his presentation titled: "Addressing the impact of droughts and flooding on agriculture – policy options and best practices," Dr. Ulf Stein presented three examples to support more sustainable water management in agriculture from the results of the WADKlim project.
In the first example, he discussed measures that have a positive impact on water scarcity and droughts as well as for flood protection, are cost-effective, and have a quick impact. In the second example, he discussed measures to avoid and mitigate water use conflicts and pointed out that especially organizational measures in administration and water management still have a high potential for expansion. As a third example, he highlighted the strengths and weaknesses of water advisory boards, which aim to support the balancing of interests between water-using sectors and the avoidance or mitigation of water-related conflicts.
Finally, Dr. Ulf Stein gave three key messages:
Sustainable management of the regional landscape water balance is essential to ensure resilient agroecosystems.
Adaptation measures in agriculture promise to have a greater impact when applied in combination with adaptation measures of other sectors.
Innovative governance instruments on regional cross-sectoral coordination and cooperation, such as water advisory boards, need to be put in place and need to be linked with existing policy instruments (e.g. River Basin Management Plans; Flood Risk Management Plans) in order to adapt to droughts and flooding at the same time.
Contact