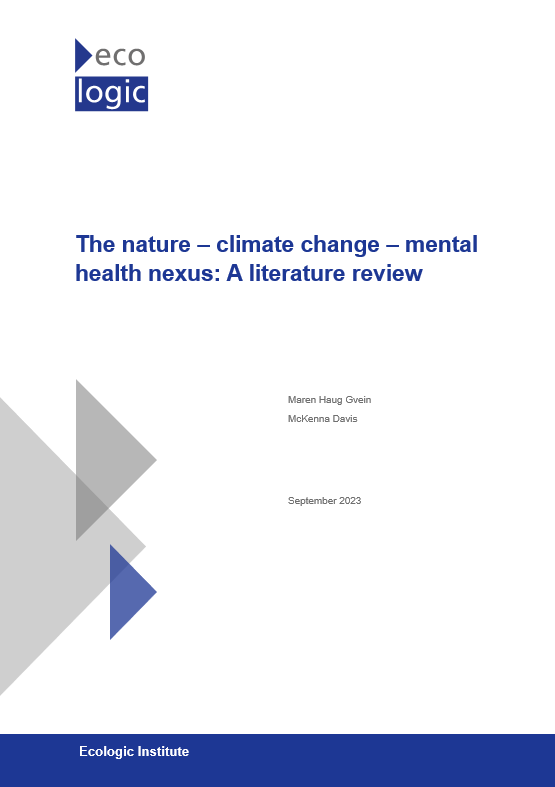 The Nature – Climate Change – Mental Health Nexus
A literature review
Publication

Citation

Gvein, Maren Haug and Davis, McKenna (2023): The nature – climate change – mental health nexus: A literature review. Ecologic Institute, Berlin.
The complex interactions between nature, climate change, and mental health are being increasingly explored amid increasing environmental challenges facing society. This study explores these connections, focusing on (1) how mental health is affected by the effects of a changing climate in Europe, and (2) how green spaces and nature-based solutions can play a role in reducing and treating those negative effects. The research, conducted by Maren Haug Gvein as part of her International Fellowship at Ecologic Institute (2022-2023), uncovers the transformative power of promoting a harmonious relationship with the natural world to nurture our collective ecological and social resilience. Key findings of the report are summarized below, and in the infographic. The full report is available for download here.
Climate change and mental health
The impacts of climate change – such as the increasing frequency of unpredictable and extreme weather events and broader shift in local climates – threaten healthcare, urban living, agriculture, and food production, amongst other societal impacts. Challenges such as floods, heatwaves, air pollution, and noise put society at higher risk for conditions like Post-Traumatic Stress Disorder (PTSD) and emotional distress as well as suffering from eco-anxiety.
Demographics and socio-economic status are amongst the critical factors determining the severity of climate change impacts on mental health. The correlation between worsening social and economic conditions and the emergence of mental health struggles can thus not be overlooked.
Nature and mental health
Green spaces and nature-based solutions can offer refuge from extreme climatic shifts, nurturing both ecological and social resilience. Through mechanisms like climatic regulation and water retention, nature can work as a protective measure for communities and society.
Beyond its physical benefits, nature can also provide a wide array of cultural ecosystem services. From recreation and leisure to fostering a sense of belonging, enhancing community growth, and creating space for wonder and awe, the influence of nature on our mental health is profound. Through ecotherapy, nature can further play a therapeutic role in mitigating stress.
Equitable access to nature is not a given. Socio-economic factors and demographics often determine how nature and green spaces are distributed, highlighting the emerging need to ensure fair and inclusive approaches when it comes to urban planning and implementation of nature-based solutions.
Contact