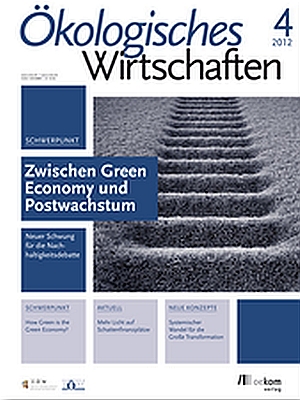 Nachhaltigkeits- und Wirtschaftsindikatoren verknüpfen
Jetzt die richtigen Weichen stellen
Publication

Citation

Porsch, Lucas 2012: "Jetzt die richtigen Weichen stellen - Nachhaltigkeitsindikatoren und etablierte Wirtschaftsindikatoren verknüpfen". Ökologisches Wirtschaften, Vol. 04/2012, 40-44.
Mainstream economic indicators still dominate practical policy making. In this journal article, Lucas Porsch explains how the connection of sustainability measures and these mainstream indicators can be a tool for policy makers to understand and manage trade-offs between different sustainability categories.
The project Integrating Mainstream Economic Indicators with Sustainable Development Objectives (IN-STREAM) has analysed the similarities and differences of mainstream economic indicators and sustainability measures and has tested various methods to implement sustainability measures more firmly in practical policy making.
The project has modeled different trade-offs of sustainability policies (Jobs versus greenhouse gas emissions or poverty reduction versus biofuel targets). The results were discussed with experts from academia and policy making.
Additionally IN-STREAM developed and tested systematic review methods for indicators, which enable policy makers to decide on the best indicators for their policy problem in a robust way.
Finally a composite indicator for sustainable development was developed, to make the inherent subjective choices of sustainability assessment more transparent.
Overall IN-STREAM has developed important tools, to further foster the take up of sustainability measures by policy makers.