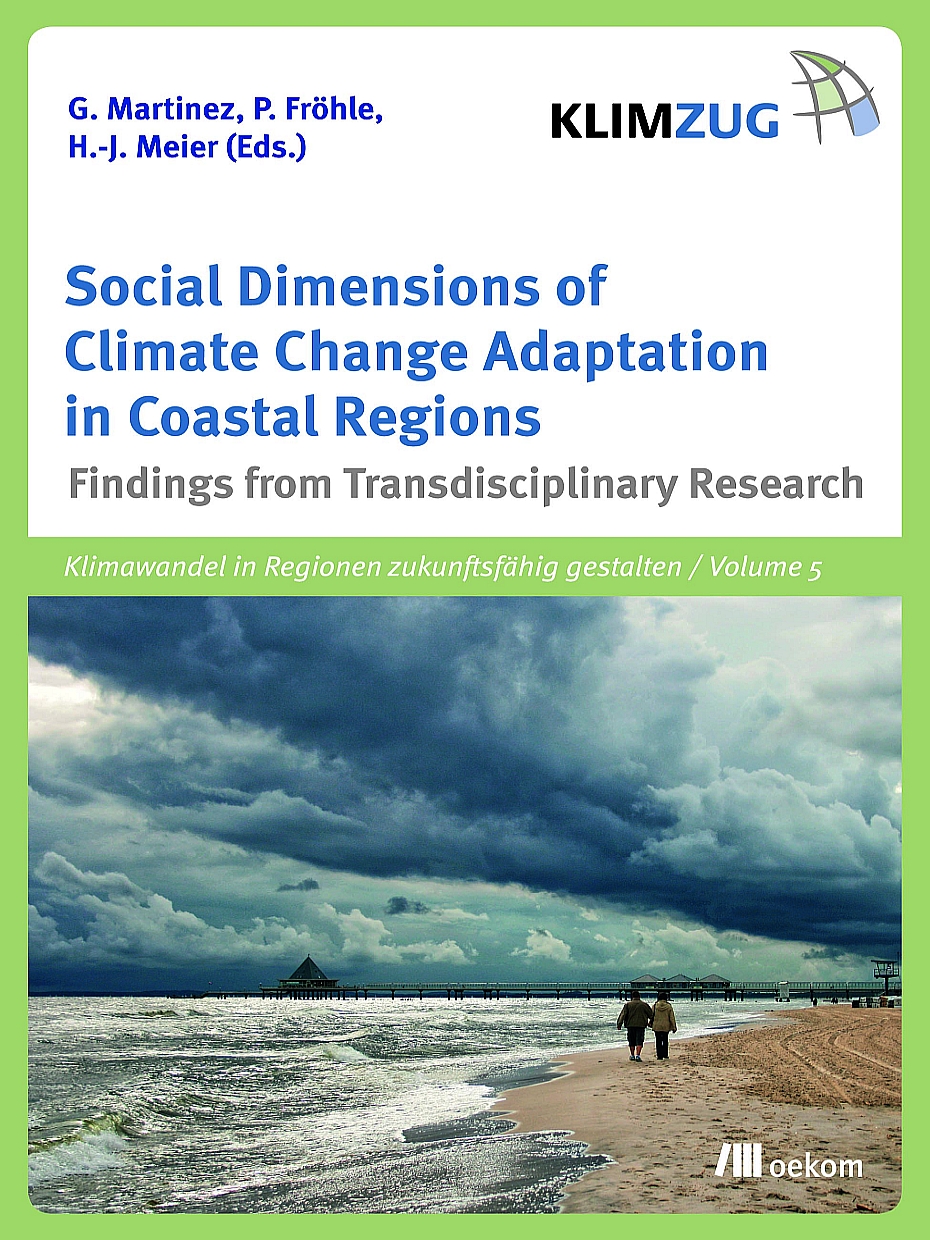 The Cultural Context of Climate Change Adaptation
Cases from the U.S. East Coast and the German Baltic Sea Coast
Publication

Citation

Martinez, Grit; Orbach, Mike; Frick, Fanny; Donargo, Alexandra, Ducklow, Kelsey; Morison, Nathalie  2014: "The cultural context of climate change adaptation: Cases from the U.S. East Coast and the German Baltic Sea Coast", in: Grit Martinez; Hans-Joachim Meier and Peter Fröhle (eds.): Social Dimensions of Climate Change Adaptation in Coastal Regions - Findings from Transdisciplinary Research. Munich: oekom verlag, 85-103.
Coastal communities in the U.S. and in the EU are increasingly aware of the existing and possible impacts of climate change. Over 123 million Americans and nearly half of European citizens live on or near their respective coasts. Adapting to ongoing and future climate change in coastal communities is an area of common concern between the U.S. and the EU, and it is an area where the two can pursue common approaches that build on learning and best practices. Further, climate change adaptation for coastal communities must be considered in the context of already existing constraints and challenges to these communities. What coastal stakeholders in Europe and the U.S. learn from each other to safeguarding their shores has been explored in a publication by Dr. Grit Martinez from Ecologic Institute in collaboration with colleagues from Duke and Humboldt University.
In some places, often in the EU, national and regional governments drive coastal communities to increase their resilience and adapt to climate change, through the development of climate adaptation plans and the provision better estimations of projected risks in the short and longer term. In other areas, often in the US, coastal communities are actively aware of increasing risks and have begun to organize themselves to strengthen their resilience to potential and existing threats through e.g. improved information sharing and developing alternatives to cope with perceived and estimated risks. These communities, policymakers, and researchers have much to learn from each other.
In their study "The cultural context of climate change adaptation: Cases from the U.S. East Coast and the German Baltic Sea Coast" lead author Dr. Grit Martinez from Ecologic Institute jointly explores with colleagues from DUKE University (Prof. Mike Orbach, Alexandra Donargo, Kelsey Ducklow, Nathalie Morison) and Humboldt University (Fanny Frick) the role of socio-cultural and socio-economic development, as it is displayed in law and policy, in relation to perceptions, local knowledge and values concerning environmental changes and climate change in geo-morphological similar regions at coasts in the U.S. and Germany.
The authors found that history, values and experiences shape perceptions and actions of coastal communities. In different countries, the process of action-orientation has different time lapses, dynamics and results. To understand these differences and to learn from them it is important to analyze how historical and contemporary characteristics of coastal management regimes and perceptions and values of coastal stakeholders emerged and how and why they differ since these differences impact upon the current transition process to a global challenge.
The authors argue that important factors that explain differences in approaches to environmental challenges, including climate change, can be derived from theories and narratives about path-dependency developed in a historical and context. The article has been published in December 2014 in the volume "Social dimension of Climate Change Adaptation in Coastal Regions". The volume is available for 29,95 Euros at oekom.
Contact