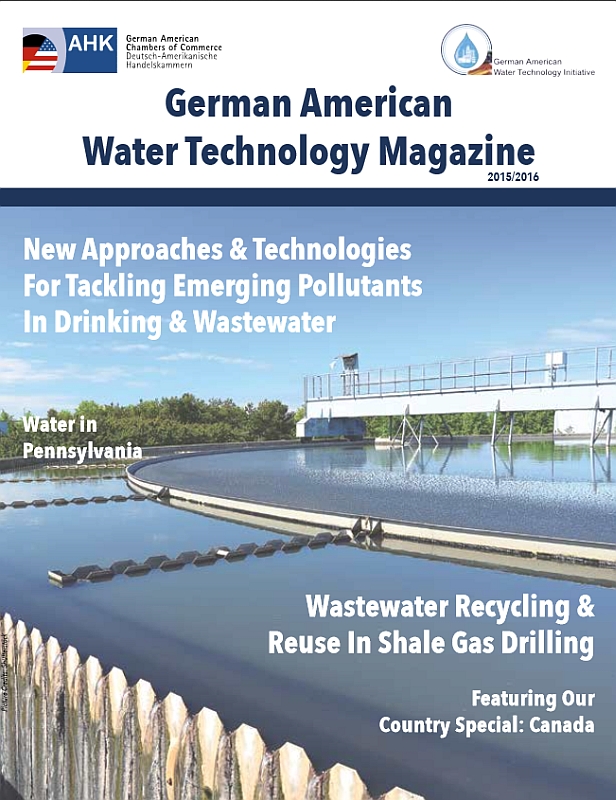 New Approaches & Technologies For Tackling Emerging Pollutants In Drinking & Wastewater
Publication

Citation

Stein, Ulf; Evelyn Lukat and Anna Bee Szendrenyi 2015: "New Approaches & Technologies for Tackling Emerging Pollutants in Drinking & Wastewater". German American Water Technology Magazine, Vol. 2015/2016, No. 4, 46-49.
In October 2015, DEMEAU, a three-year EU-funded FP7 project, made headlines in the release of the German American Water Technology (GAWT) Magazine. The cover of the latest edition of the magazine features the article entitled "New Approaches & Technologies for Tackling Emerging Pollutants in Drinking & Wastewater." The article authored by Ecologic Institute's Ulf Stein, Evelyn Lukat, and Anna Bee Szendrenyi sheds light on key findings from the DEMEAU project, which recently concluded in August 2015. The article is available for download.
Authored by Ulf Stein, Evelyn Lukat, and Anna Bee Szendrenyi, the article details the applied research results of the five promising water treatment technologies that were explored among researchers and practitioners: Managed Aquifer Recharge, Hybrid Ceramic Membrane Filtration, Automated Neural Net Control Systems, Advanced Oxidation Technqies, and Bioassays.
In recent decades, emerging pollutants have increasingly become on the radar due to inconclusive health effects to humans and to ecosystems alike. Innovation has been a key element addressing this gap in water quality management and monitoring. In particular, small and medium-sized enterprises (SMEs) have emerged as key go-betweens for increasing innovation in the water sector with  encouraging knowledge dissemination and subsequent uptake of research.
Conclusions from DEMEAU project offered unique insights for novel approaches to developing and testing relevant water treatment technologies. Research and close collaboration among researchers, SMEs and water utilities are key to innovation. "This integrated approach has been critical to the overall success of the uptake of the five technologies," the article details. The project found that transparent sharing of research results, increased communication between research and practice, as well as trans- and interdisciplinary exchange and collaboration among researchers, utilities and SMEs have the biggest leverage for successful uptake of promising innovations in the drinking and waste water sector.
Additionally, based on project findings, several key recommendations also emerged, including that:
There is a need for regulatory standards to define emerging contaminants more explicitly at the national and EU-level and simultaneously increase regulatory pressures.
There is a need for movement towards better integration of regulators and policy makers into the innovation cycle.
Economic tools and initiatives that facilitate closer cooperation among SMEs and water utilities are needed.
To read more about each technology and what it offers, read the attached article [pdf, 2.4 MB, English]. Please also visit the DEMEAU project website where you can find all public deliverables and further information.
Contact