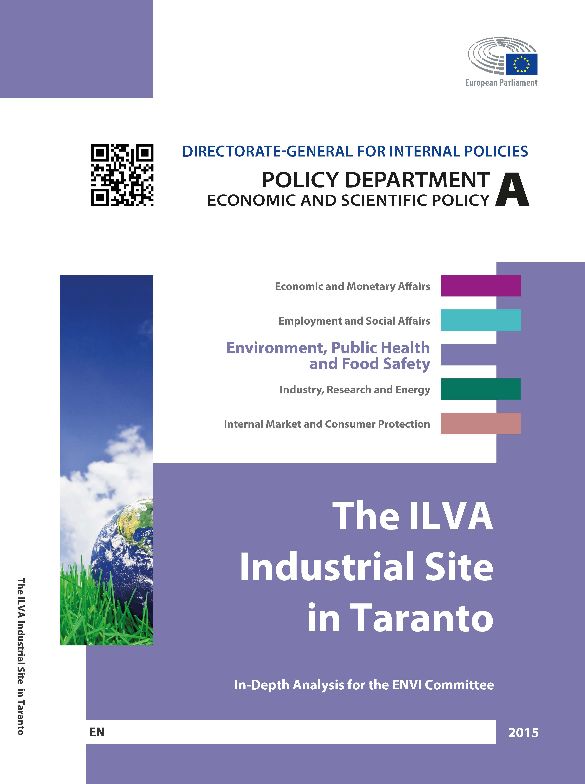 The ILVA Industrial Site in Taranto
Analysis for the ENVI Committee
Publication

Citation

Vagliasindi, Grazia Maria and Gerstetter, Christiane 2015: The ILVA Industrial Site in Taranto. In-depth Analysis for the ENVI Committee. European Parliament: Brussels. ISBN: 978-92-823-8250-9 (paper), 978-92-823-8251-6 (pdf).
The present briefing provides an overview of the history of the plant, and of the legal measures taken to address the company's failure to comply with applicable environmental legislation, as well as the environmental, economic and health impacts of the lack of environmental compliance. The briefing is available for download.
The briefing concludes by noting that the EP's options for action in a situation that is mainly within the enforcement competence of national authorities are somewhat limited. However, the EP could take the following steps:
The EP should continue to monitor the situation, in particular with regard to compliance of the company with the renewed permit.
The EP should carefully consider the implications of the ILVA case in relation to the need of harmonisation of rules on monitoring and inspection at the EU level, e.g. through a directive on the matter. The EP in this context should also consider experiences gathered with the implementation of the Industrial Emissions Directive

(link is external)

which requires Member States to set up a system of environmental inspections for installations covered by the directive.