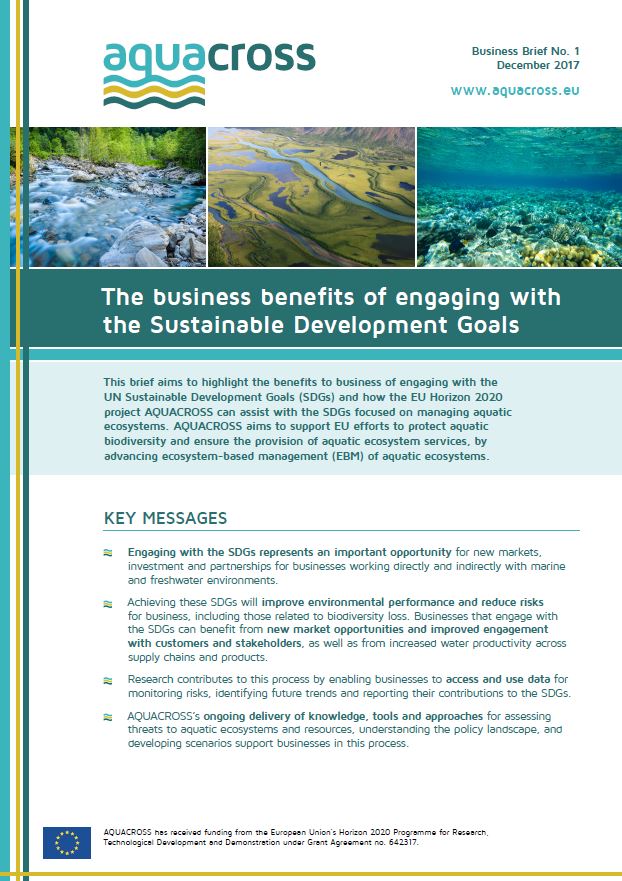 The Business Benefits of Engaging with the Sustainable Development Goals
Aquacross Business Brief
Publication

Citation

Reilly, Kate, et. al. (2017): The Business Benefits of Engaging with the Sustainable Development Goals. Business Brief No. 1. European Union's Horizon 2020 Framework Programme for Research and Innovation grant agreement No. 642317.
This brief aims to highlight the benefits to business of engaging with the UN Sustainable Development Goals (SDGs) and how the EU Horizon 2020 project Knowledge, Assessment, and Management for Aquatic Biodiversity and Ecosystem Services Across EU Policies (AQUACROSS) can assist with the SDGs focused on managing aquatic ecosystems.
The key messages of the brief are:
Engaging with the SDGs represents an important opportunity for new markets, investment and partnerships for businesses working directly and indirectly with marine and freshwater environments.
Achieving these SDGs will improve environmental performance and reduce risks for business, including those related to biodiversity loss. Businesses that engage with the SDGs can benefit from new market opportunities and improved engagement with customers and stakeholders, as well as from increased water productivity across supply chains and products.
Research contributes to this process by enabling businesses to access and use data for monitoring risks, identifying future trends and reporting their contributions to the SDGs.
AQUACROSS's ongoing delivery of knowledge, tools and approaches for assessing threats to aquatic ecosystems and resources, understanding the policy landscape, and developing scenarios support businesses in this process.
The AQUACROSS project aims to support EU efforts to protect aquatic biodiversity and ensure the provision of aquatic ecosystem services, by advancing ecosystem-based management (EBM) of aquatic ecosystems. The business brief is available for download.
Contact