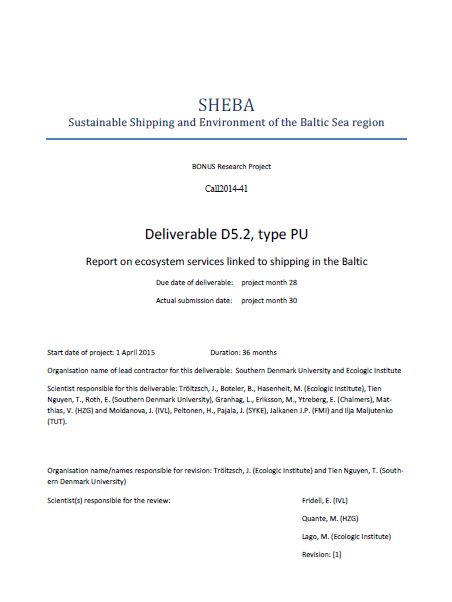 Ecosystem Services Linked to Shipping in the Baltic
Deliverable 5.2 – Sustainable Shipping and Environment of the Baltic Sea Region (SHEBA)
Publication

Citation

Tröltzsch, Jenny et. al. 2015: Report on ecosystem services linked to shipping in the Baltic. Deliverable 5.2. BONUS Research project Sustainable Shipping and Environment of the Baltic Sea Region (SHEBA).
This report aims to provide an understanding of the costs of degradation due to shipping in the Baltic Sea. To do this, the report provides an in-depth look at the pressures created, changes to state and health, and ultimately how this does or could impact human well being.
Shipping pressures in the Baltic Sea are numerous, ranging from emissions to air and water emissions to noise emissions and their impacts can potentially lead to effects such as on human health, losses to commercial fishing or decreased tourist arrivals. Costs of degradation within this study encompass both the natural environment as well as social impacts. In addition, costs are understood as both losses to ecosystem services as well as costs incurred in an effort to abate the negative externalities of shipping (i.e. environmental costs). The result is both a quantitative and qualitative assessment and should be a useful guide to researchers, NGOs, industry, and policy makers seeking to know more about how shipping in the Baltic Sea impacts human well being and therefore support with the identification and prioritisation of policy options and measures to reduce pressures.
Contact