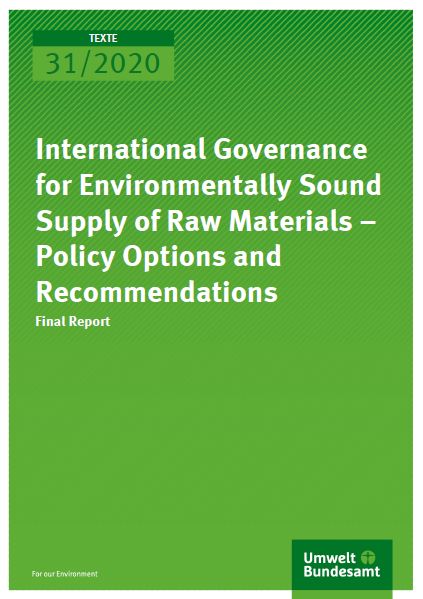 International Governance for Environmentally Sound Supply of Raw Materials – Policy Options and Recommendations
Final Report
Publication

Citation

Bodle, Ralph et. al. (2020): International Governance for Environmentally Sound Supply of Raw Materials – Policy Options and Recommendations. Dessau-Roßlau: Umweltbundesamt.
This research report of the Ecologic Institute addresses how Germany can contribute, through international governance, to reduce the environmental impacts of mining activities outside its territory. It provides a stocktake of existing governance approaches at the international level or with transboundary effect. It then develops specific policy options and recommendations for the German federal government to strengthen international governance for an environmentally sound supply of raw materials.
The scope included the extraction of abiotic raw materials up to processing and smelting. In terms of impacts, it included social impacts where they are linked to the environment.
Mineral extraction activities can have significant impacts on the environment during all stages of the life cycle of a mine, from exploration to construction and operation, and up to closure. Impacts also occur along the value chain of raw materials, including processing, treatment and transport. With the demand for raw materials increasing worldwide and value chains spreading across different countries, international approaches can contribute to making mineral extraction adhere to environmental standards.
Contact