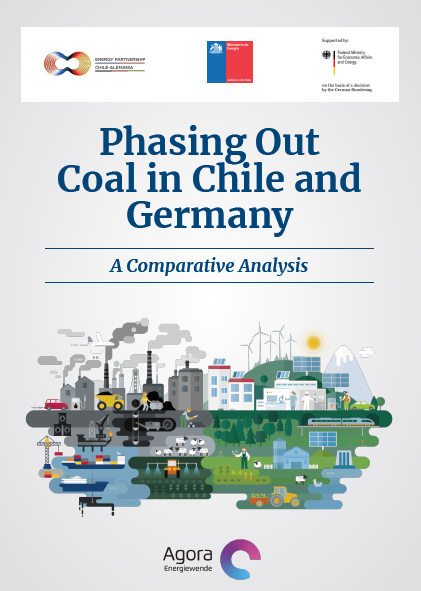 Phasing Out Coal in Chile and Germany
A Comparative Analysis
Publication

Citation

Hauser, Philipp; Benjamin Görlach, Katharina Umpfenbach et. al. 2021: Phasing Out Coal in Chile and Germany. A Comparative Analysis. Agora Energiewende: Berlin.
Both Germany and Chile have decided to phase out coal, not only to achieve their climate targets, but also to modernise their electricity sector. In this publication, the experiences of both countries are analysed and contrasted in order to distill lessons for policymakers navigating the challenges of exiting coal in their own countries. The analysis was done in support of the working group of the Chilean-German Energy Partnership.
The report's key messages are:
Phasing-out coal is an inevitable and profound structural change that must be managed carefully, involving stakeholders from affected regions. An early and comprehensive engagement of interested parties allows the reconciliation of diverging interests – defining adequate measures for a just transition and lasting stakeholder support.
Substituting coal with renewable electricity is key for direct and indirect electrification strategies to transform national and international energy markets. Sound energy planning and an effective and adaptive policy framework with a focus on supply- and demand-side flexibility will ensure the success and efficiency of the process.
A coal phase-out strategy agreement is a political and economic signal that provides attractive investment opportunities for reinforcing and accelerating the process. Agreements must be solid and flexible to adapt to positive feedback and rapid developments in technologies, investment behaviour, and climate policies.
Investors are ready to embrace the opportunities and business models offered by the decarbonisation of energy systems. As costs of renewable energy technologies continue to fall, the roll-out of a smart, digitised, decentralised, flexible, and renewable energy system represents an attractive economic growth opportunity for investors and nations.
Ecologic Institute contributed the case study on the German coal phase-out. It looked at the increasingly conflicted position of coal in the country's energy transition, the role of the coal commission and the process leading up to the coal phase-out decision. Derived from the analysis, key outcomes and findings for the comparative analysis between Germany and Chile were identified.
Contact