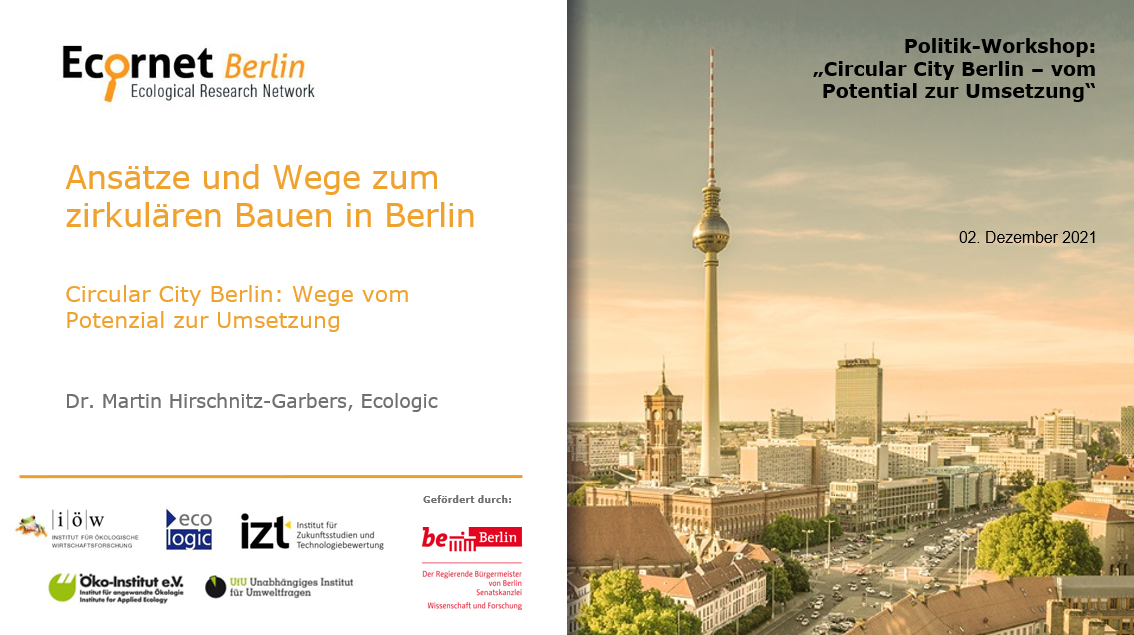 Circular City Berlin – Steps from potential to implementation
CiBER Final workshop
Event

Date

Location

online
The goal of the final workshop was to discuss options for action with representatives from the Berlin House of Representatives and various Senate administrations in order to jointly outline which measures and implementation steps would be effective.
Background and objective
As part of the CiBER project "Circular City Berlin – Pathways from Potential to Implementation", offers, approaches and business models in Berlin were analysed that can contribute to the path towards a next-generation circular economy in Berlin in the areas of construction, electronics and textiles. The next-generation circular economy is about innovations in terms of product design and product use systems.
In the project, we distinguished four basic strategies for circular economy:
Life Cycle Designing (re-design of products in combination with waste-avoiding services),
Extension of the useful life of products (re-use, repair, re-commerce and refurbishing),
Intensification of use (sharing, borrowing and renting, product-as-a-service),
Material reuse (upcycling and retro-logistics).
Possible obstacles on the way to a Circular City Berlin as well as options for action for SMEs, start-ups and politics were elaborated. Key options for action were compiled in a transformation roadmap that shows starting points for shaping Berlin's path to a Circular City in the areas of construction, electronic products and textiles.
Contact