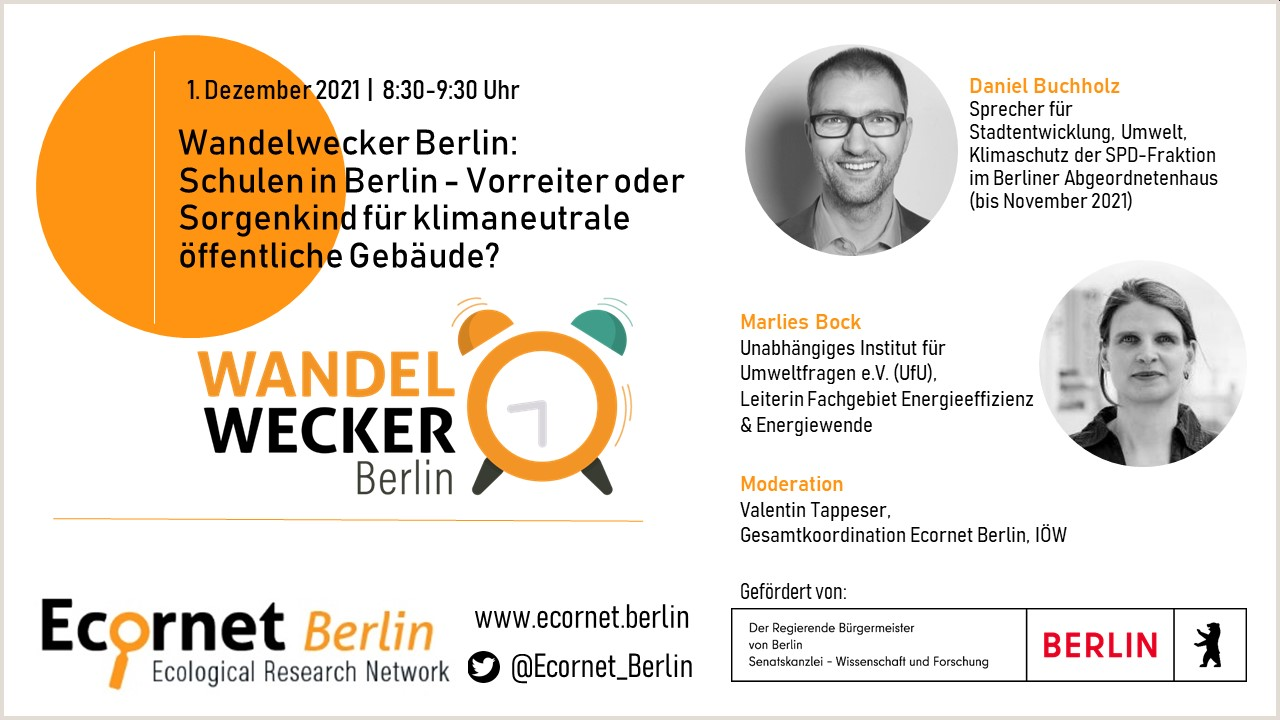 Schools in Berlin – Pioneer or troubled child for climate-neutral public buildings?
Event

Date

Location

online

Speaker
Berlin has set ambitious standards for the prevention of CO2 emissions, with significantly stricter targets in the new Climate Protection Act (EWG Bln). What are the targets and opportunities, and what are still the major challenges and barriers? In order to become climate-neutral, it is imperative that the building sector be given greater consideration. The Climate Protection Act and the Berlin Energy and Climate Protection Program (BEK) 2030 emphasize the exemplary role of the public sector in this area. This means that public buildings such as school buildings are a key factor. In the districts' renovation roadmaps, schools sometimes account for more than 80 percent of the buildings that need to be renovated for energy efficiency in the next few years.
For many of these buildings, planning is already underway, for example as part of Berlin's school construction campaign, and in some cases work has already begun. In this Wandelwecker, we provided an overview of the status quo and the specifications in the area of construction and renovation of public buildings in Berlin and posed whether the path taken for school buildings will be sufficient to achieve the climate protection goals or whether the current approach will lead to many buildings having to undergo energy refurbishment again in a few years. Particularly in view of the future state government, in which many new players will be dealing with the issue, we wanted to use this impulse to help Berlin's schools live up to their exemplary role and make a contribution to achieving climate neutrality in the building sector.
In the eighth issue of Wandelwecker, our morning impulse for a social and ecological metropolis, we discussed with two experts:
Daniel Buchholz holds a degree in industrial engineering and was a member of the Berlin House of Representatives from October 2001 to November 2021. As spokesman for urban development, environment, climate protection of the SPD parliamentary group, he actively represented these topics in state politics. During his studies in industrial engineering at the Technical University of Berlin, he worked at industrial companies in Berlin and also as a journalist. After graduating, he worked at Deutsche Telekom for more than ten years, first as a group trainee and until the end of 2009 as a senior project manager in the area of IT solutions for major customers.
Since 2010, Marlies Bock has been a staff member at the Independent Institute for Environmental Issues e.V. (UfU). She studied industrial engineering with a specialization in environmental technology and completed further training as a building energy consultant. Since 2016, she has headed the "Energy Efficiency & Energy Transition" department at UfU. In the research network Ecornet Berlin, she leads the project "Heat Turnaround in Non-Residential Buildings". Furthermore, she is involved in various energy saving projects in schools and daycare centres of the UfU. School buildings in passive house construction were investigated in one of the completed projects.
Moderation: Valentin Tappeser, Overall Coordination Ecornet Berlin, IÖW