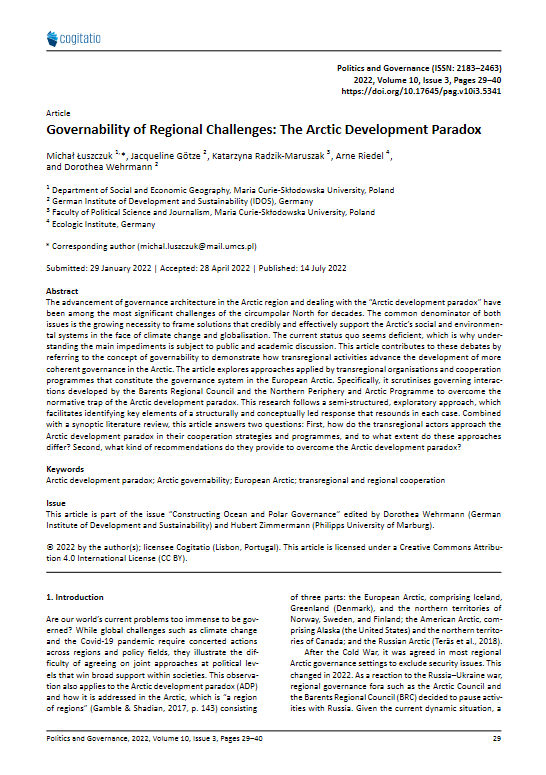 Governability of Regional Challenges: The Arctic Development Paradox
Publication

Citation

Michał Łuszczuk et al. 2022: Governability of Regional Challenges: The Arctic Development Paradox. Politics and Governance 2022, Volume 10, Issue 3, Pages 29–40
https://doi.org/10.17645/pag.v10i3.5341.
 The advancement of governance architecture in the Arctic region and dealing with the "Arctic development paradox" have been among the most significant challenges of the circumpolar North for decades. The common denominator of both issues is the growing necessity to frame solutions that credibly and effectively support the Arctic's social and environmental systems in the face of climate change and globalisation. The current status quo seems deficient, which is why understanding the main impediments is subject to public and academic discussion. This article contributes to these debates by referring to the concept of governability to demonstrate how transregional activities advance the development of more coherent governance in the Arctic.
The article explores approaches applied by transregional organisations and cooperation programmes that constitute the governance system in the European Arctic. Specifically, it scrutinises governing interactions developed by the Barents Regional Council and the Northern Periphery and Arctic Programme to overcome the normative trap of the Arctic development paradox. This research follows a semi-structured, exploratory approach, which facilitates identifying key elements of a structurally and conceptually led response that resounds in each case. Combined with a synoptic literature review, this article answers two questions: First, how do the transregional actors approach the Arctic development paradox in their cooperation strategies and programmes, and to what extent do these approaches differ? Second, what kind of recommendations do they provide to overcome the Arctic development paradox?
Contact