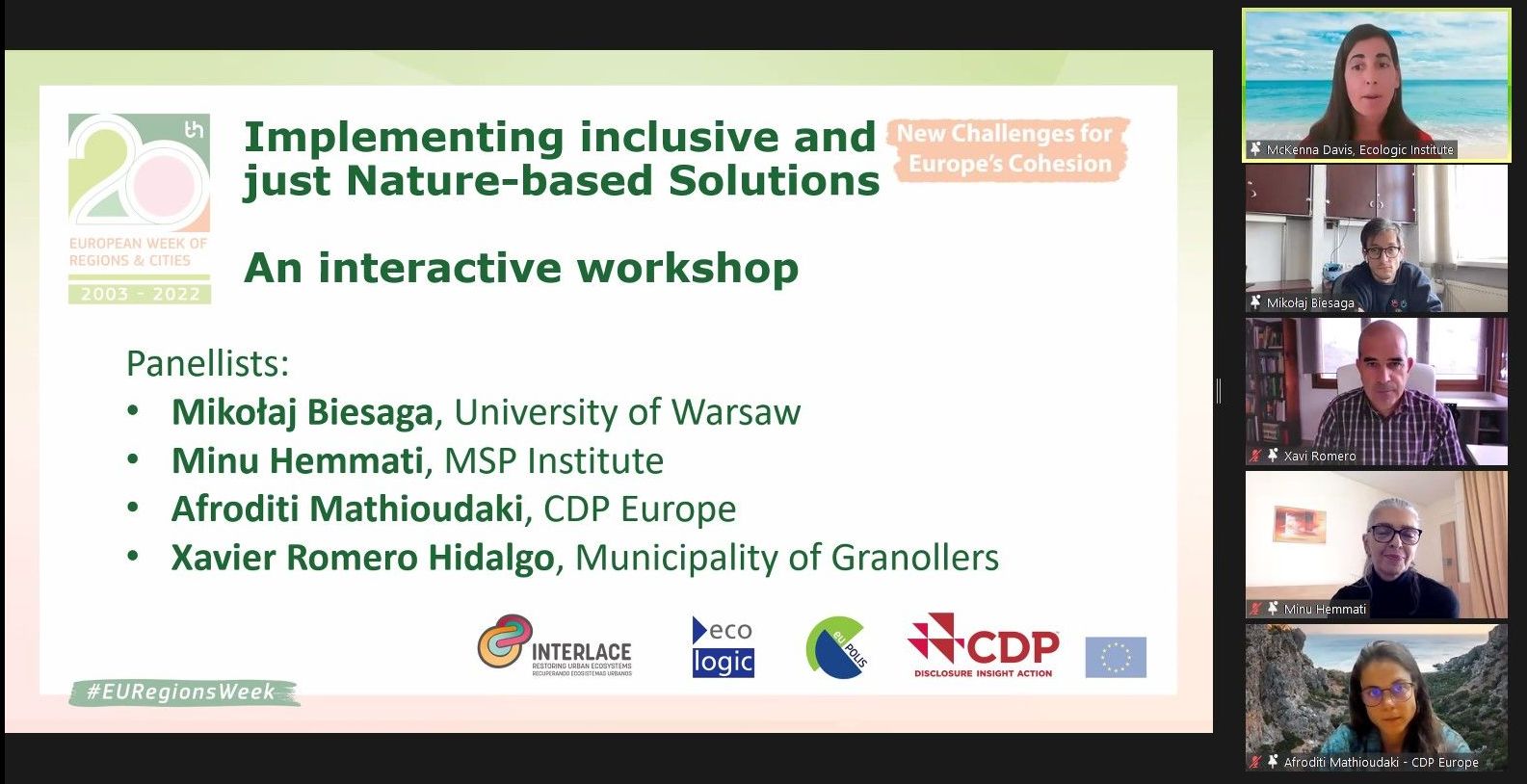 Implementing Inclusive and Just Nature-based Solutions
An interactive workshop
Event

Date

Location

online, Brussels, Belgium

Speaker

Hashtag
Nature-based solutions (NBS) for EU cities and regions represent an integral part of the EU's transition to achieving climate neutrality. In this panel, moderated by Ecologic Institute's McKenna Davis, experts discussed effective, just and inclusive strategies to design, implement and manage NBS, while engaging under-represented or marginalised stakeholders. The event was part of the European Week of Regions and Cities. The session was supported by the findings of two Horizon 2020 research projects: euPOLIS and INTERLACE. The recording of the event is available online.
The workshop highlighted proven innovative strategies and approaches to foster the inclusive engagement of stakeholders. Following the framing inputs from McKenna Davis, Ecologic Institute and Afroditi Mathioudaki, CDP Europe, the participants heard two video testimonials from Emily Bohobo N'Dombaxe Dola, Storytelling Director, Youth4Nature and Juan Guillermo Jiménez, Manager of Bogota Urban Renewal and Development Company who highlighted the importance of engaging youth in urban governance and the important role local government play in driving the climate, biodiversity and social transitions. The expert discussion featured insights from local government, participation experts and researchers: Mikołaj Biesaga, University of Warsaw; Minu Hemmati, MSP Institute; Xavier Romero Hidalgo, Municipality of Granollers and Afroditi Mathioudaki, CDP. Session participants had the opportunity to take part in a brainstorming exercise to come up with practical recommendations from the session.
The discussion highlighted that the participatory processes in the just and inclusive design and implementation of nature-based solutions should be flexible, innovative and contribute to the long-term sustainability of the NBS, making sure that as many voices as possible are being heard. A practice of authentic listening from local authorities, simplicity and manageable expectations are key success factors for inclusive NBS design and application. During the discussion with the audience, the participants noted the potential of including intermediaries, like social organizations, that could represent the stakeholder groups. This could help address the low participation levels that has been observed by both local authorities as well as EU-funded project managers involved in participatory processes, add legitimacy to participatory processes, and provide further access to relevant stakeholders. It is also important to develop effective communication and engagement strategies with the public that are agile and adaptable enough to effectively raise awareness and make sure we use the correct resources and available knowledge base in place to advance.
FLOOR-11WS22468-Implementing inclusive and just Nature-based Solutions: An interactive workshop from #EURegionsWeek on Vimeo.
Contact