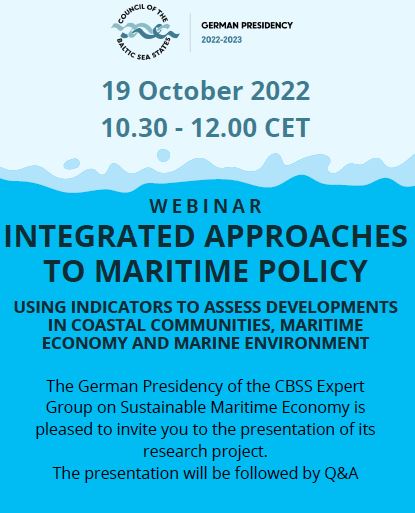 Integrated Approaches to Maritime Economy in the Baltic Sea Region
Presentation of project findings for the Council of the Baltic Sea States (CBSS)
Presentation

Date

Location

online

Speech

Holger Kramer, Andreas Hübscher, Sönke Maatsch,
The Ecologic Institute and the Institute of Shipping Economics and Logistics (ISL) in Germany developed in the past months a set of suitable indicators to make the impacts of Germany's integrated maritime policy presentable and assessable at the economic, ecological, and social levels. This project was undertaken in order to initiate the process of a comprehensive evaluation of Germany's integrated maritime policy, which requires, in the first instance, the definition of appropriate indicators for assessment.
During this webinar, Ecologic Institute's Dr. Nico Stelljes presented the highlights and the findings of the project "Indicators of an Integrated German Marine Policy" and gave an overview of a possible set of indicators to assess an integrated maritime policy at a national level, with the scope to stimulate discussions on similarities and differences in the integrated approaches to the maritime economy in the Baltic Sea Region.
The presentation was hosted by the CBSS Expert Group on Sustainable Maritime Economy.
Contact