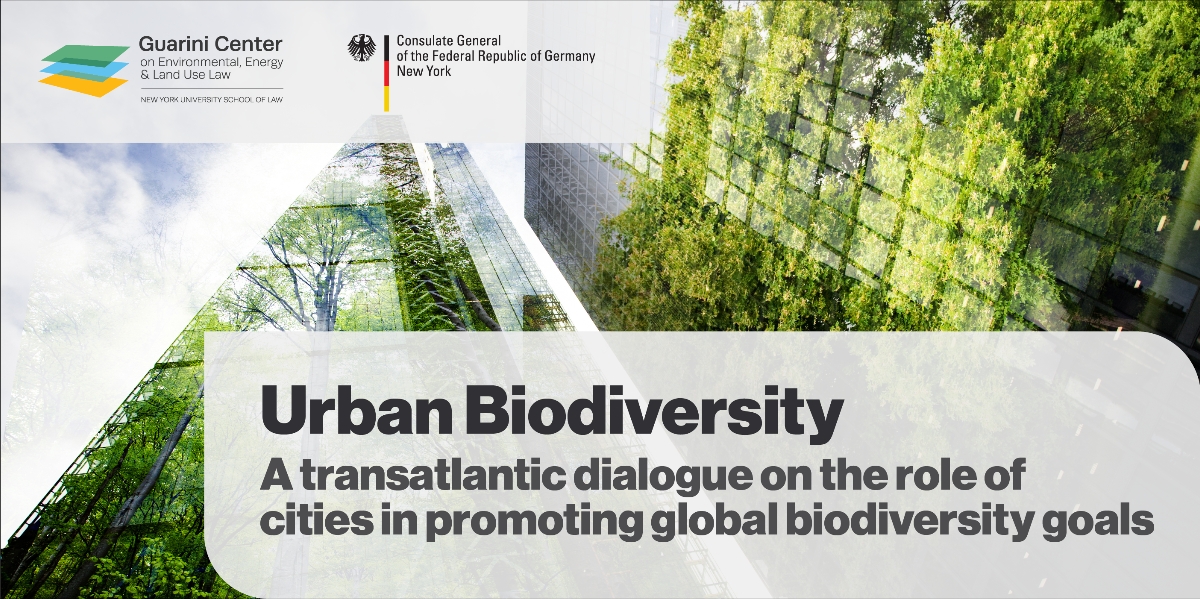 Berlin's Strategy to Promote Urban Biodiversity
Presentation

Date

Location

hybrid, New York, United States

Panel discussion
From 7 to 19 December 2022, the international community is scheduled to come together to discuss the future of the Convention on Biological Diversity. One of the key items that will be negotiated at the upcoming COP15 is the post-2020 Global Biodiversity Framework. In the light of these upcoming negotiations on 2 November 2022, the Guarini Center on Environmental, Energy and Land Use Law at New York University School of Law and the German Consulate General in New York organized an event with experts from New York City and Berlin to discuss the role of local governments in implementing global biodiversity targets, including the ways in which cities can support urban biodiversity. Sandra Naumann, Senior Fellow at the Ecologic Institute, presented Berlin's strategy to promote urban biodiversity and participated in the final panel.
In her presentation, Sandra Naumann highlighted the drivers and motivation of the City of Berlin to actively promote biodiversity in the city, the approach chosen, and the Berlin biodiversity strategy implemented, as well as the specific activities carried out in the city. In the panel discussion that followed, several topics were addressed, such as the differences in promoting urban biodiversity between New York and Berlin, how social inequality can be successfully addressed with urban nature planning, and what needs to change to promote biodiversity at the citywide level. In this context, particular emphasis was placed on the importance of raising awareness among citizens and policymakers about the benefits of biodiversity and nature in the city; actively engaging residents in specific projects; ensuring sufficient financial and political support; and the need for an enabling policy framework and cross-sector coordination.
The presentation is available for download.
Agenda
Opening remarks:
Bryce Rudyk, Director, International Environmental Law Program, Guarini Center
Panelists:
Dr. Georgina Cullman, Ecologist, NYC Department of Parks & Recreation
Dustin R. Partridge, PhD, Director of Conservation & Science, NYC Audubon Society
Sandra Naumann, Senior Fellow, Coordinator of Biodiversity & Nature-based Solutions, Ecologic Institute
Wolfram von Heynitz, Deputy Consul General, Consulate General of the Federal Republic of Germany New York
Moderated by:
Benji Jones, Senior Environmental Reporter, Vox