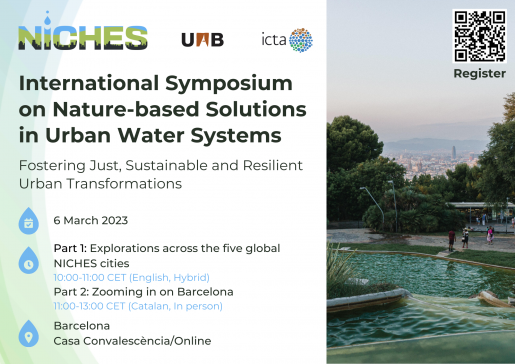 International Symposium on Nature-based Solutions in Urban Water Systems
Event

Date

Location

hybrid, Barcelona, Spain
The Institute of Environmental Science and Technology (ICTA) from the Universitat Autònoma de Barcelona (UAB), invites you to the first International Symposium of the NICHES project. NICHES aims to promote restorative nature-based solutions in urban water systems to address current problems, such as combined waste and rainwater sewer systems overflows on aquatic ecosystems. In order to facilitate knowledge and experience exchange across policy-makers, civil society, academia and the business sector, the NICHES International Symposium will combine presentations about international successful examples of nature-based solutions and provide a forum for discussion about current challenges and opportunities in the Metropolitan Area of Barcelona.
The "NICHES International Symposium on Nature-based Solutions in Urban Water Systems: Fostering Just, Sustainable and Resilient Urban Transformations" will take place on 6 March 2023 between 10 am and 13 pm CET in the Casa Convalescència in Barcelona.
Join on the 6 March in person or online to have that conversation! You can register HERE.
Timings: 
Part 1: Explorations across the five global NICHES cities at 10:00-11:00 CET (English, Hybrid)
Part 2: Zooming in on Barcelona at 11:00-13:00 CET (Catalan, In person)
The NICHES Project is coordinated by Ecologic Institute.
Contact