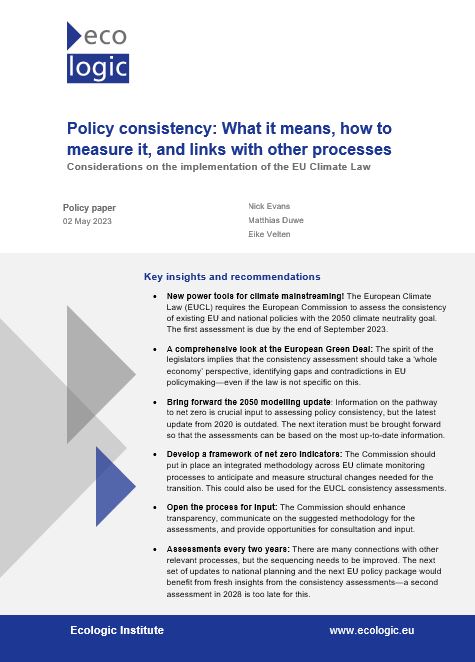 Policy Consistency: What it means, how to measure it, and links with other processes
Considerations on the implementation of the EU Climate Law
Publication

Citation

Evans, Nick, Matthias Duwe, Eike Karola Velten (2023): Policy consistency: What it means, how to measure it, and links with other processes. Ecologic Institute, Berlin.
The EU Climate Law, adopted in summer 2021, represents a significant advancement in EU climate governance. It offers guidance for future policymaking across the entire economy and introduces new progress and policy monitoring mechanisms to ensure EU climate neutrality by 2050. One such mechanism is a five-yearly assessment by the EU Commission to review the consistency of EU and Member State policies with the net-zero goal, with the first assessment due by September 2023.
This policy consistency mechanism has the potential to be a powerful tool for climate mainstreaming, identifying counter-productive policies and gaps and offering solutions. However, the lack of a definition of consistency and methodology in the EU Climate Law raises questions about its practical implementation.
This policy paper aims to inform discussions about the new policy monitoring mechanism by providing an overview of policy consistency and how to assess it. It discusses the specifics of consistency elaborated in the EU Climate Law, considers the academic and policy understanding of policy consistency and examines how this fits with the provisions in the law. Finally, the paper explores how the policy consistency check could be operationalized and its interaction with other relevant processes to encourage further discussion on effective implementation.
A comprehensive look at the European Green Deal: The spirit of the legislators implies that the consistency assessment should take a 'whole economy' perspective, identifying gaps and contradictions in EU policymaking – even if the law is not specific on this.
Bring forward the 2050 modelling update: Information on the pathway to net-zero is crucial input to assessing policy consistency, but the latest update from 2020 is outdated. The next iteration must be brought forward so that the assessments can be based on the most up-to-date information.
Develop a framework of net-zero indicators: The Commission should put in place an integrated methodology across EU climate monitoring processes to anticipate and measure structural changes needed for the transition. This could also be used for the EUCL consistency assessments.
Open the process for input: The Commission should enhance transparency, communicate on the suggested methodology for the assessments, and provide opportunities for consultation and input.
Assessments every two years: There are many connections with other relevant processes, but the sequencing needs to be improved. The next set of updates to national planning and the next EU policy package would benefit from fresh insights from the consistency assessments – a second assessment in 2028 is too late for this.
Investing in the necessary capacity: Successful implementation of the new assessment requires sufficient resources at EU and Member State level to ensure that the information base and assessment results are of sufficient quality to inform further policy decisions.
Contact