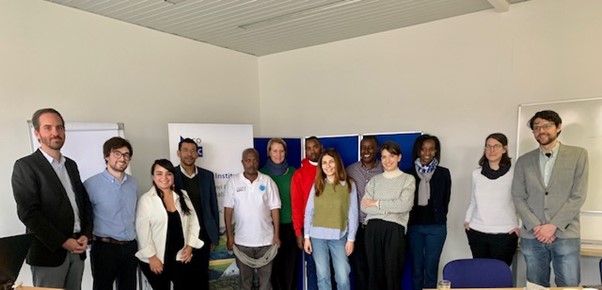 International Networks and Collaboration on Climate Research
Event

Date

Location

Berlin, Germany

Speaker
Ecologic Institute recently hosted a delegation of Rwandan stakeholders consisting of government officials, scientists, and members of civil society. The event, organized by the Development, Climate, and Events teams and supported by the German Agency for International Cooperation (GIZ), aimed to expand Ecologic Institute's international networks and increase the reach of their research results.
The networking event took place on 7 March 2023 and featured a presentation by Nick Evans on "Climate governance systems in Europe: the role of national advisory bodies." Following the presentation, members of Ecologic Institute and Rwandan officials engaged in an informal networking and coffee session. The open space provided an opportunity for the participants to discuss a range of topics including plastics, climate advisory bodies, and indigenous knowledge. The event also provided a platform for potential project collaborations and case study identification.
The event highlights Ecologic Institute's commitment to building international networks and expanding their research reach. By hosting the Rwandan delegation, Ecologic Institute was able to foster meaningful conversations and lay the groundwork for potential collaborations. Overall, the event was a success and serves as an illustration of the importance of international cooperation in addressing environmental challenges.
Contact