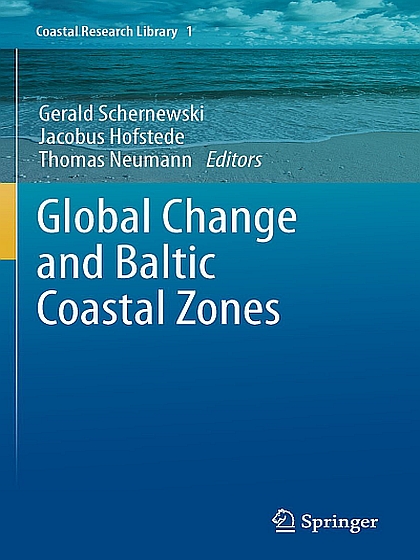 Emerging Climate Change Coastal Adaptation Strategies and Case Studies around the World
Publication

Citation

Martinez, Grit; Daniel Blobel; Livia Bizikova and Rob Swart 2011: "Emerging Climate Change Coastal Adaptation Strategies and Case Studies around the World", in: Gerald; Hofstede Schernewski, Jacobus; Neumann, Thomas (ed.): Global Change and Baltic Coastal Zones Coastal Research Library, Vol. 1]. Berlin and Heidelberg: Springer-Verlag GmbH, 249-273.
Climate change and ongoing transformations in the economy and agriculture will have numerous, strong impacts on the Baltic Region. The book "Global Change and Baltic Coastal Zones" provides comprehensive information on these changes, their consequences and the practical challenges they pose. Grit Martinez and Daniel Blobel from Ecologic Institute, along with co-authors Livia Bizikova (International Institute for Sustainable Development) and Rob Swart (Alterra Wageningen University and Research Centre), contributed a comparative analysis of climate change adaptation projects and strategies in different coastal regions of the world. The publication is supported by the RADOST project (Regional Adaptation Strategies for the German Baltic Sea Coast), which Ecologic Institute coordinates.
Presently, about 40 % of the world's population lives within 100 km of a coastline. Since climate change and sea level rise are relatively new policy challenges, experiences with choosing and designing appropriate response measures are scarce and fragmentary in coastal areas. Increasing the availability and transfer of pertinent knowledge across national boundaries can also assist in furthering coastal safety.
This chapter focuses on the management of adaptation activities encompassed by the RADOST project and its international partner regions. Attention is given to the operationalisation of regional adaptation measures, ways to increase resilience, regional adaptive governance and learning processes.
Success factors to increase the resilience of coastal areas include cooperation of a broad range of organisations and the engagement of stakeholders, careful planning of a sequence of policies and measures over time, designating risk areas, revising principles for natural resource management along the coasts, awareness raising about preferred development practices, and integrating climate concerns with other social, economic and environmental objectives. This requires maintaining connections to existing policy and decision-making processes and building or strengthening partnerships among the relevant sectors of the local or regional communities.
The book is available for sale at Springer Publisher at a price of € 106,95.
Contact