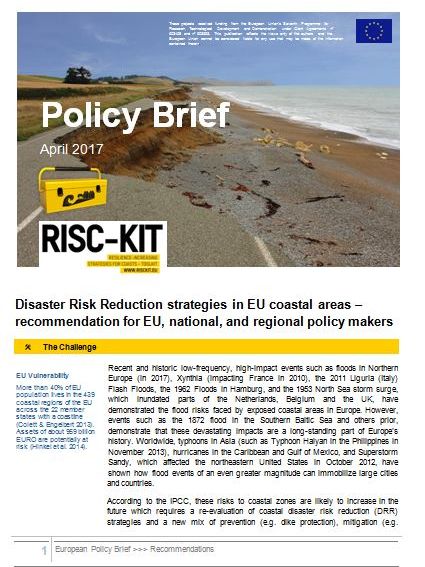 Disaster Risk Reduction Strategies in EU Coastal Areas
Recommendation for EU, National, and Regional Policy Makers
Publication

Citation

Martinez, Grit; Ap van Dongeren 2017: Disaster Risk Reduction Strategies in EU Coastal Areas - Recommendation for EU, National, and Regional Policy Makers. RISC-KIT Policy Brief.
Europe's coastlines are a product of human cultivation. Since settling on the coast, humans have engineered the coastal characteristics to suit the purposes of states, the economy and human recreation. At the time of the Treaties of Rome, Europe had just emerged from the devastating aftermath of the Second World War with a 'great hunger' for a liberal life style, leisure activities and travel. The diverse and scenic views of Europe's coasts offered the ideal destination for such endeavors. Soon, a rapid coastal urbanization coupled with a steady increase in mass tourism emerged. Spurred by the trust in technical and engineering capacities, new bold attitudes about building and living on the sea often interfered with the natural sediment transport of coastal systems, leading to erosion. Today, more than 42% of Europeans live in coastal regions with coastal infrastructure worth about 959 billion EURO. Recent and historic high-impact storm events have demonstrated that weather events pose a significant risk and can immobilize cities and countries. The FP7 project, Resilience-Increasing Strategies for Coasts – toolKIT (RISC-KIT), recently issued a policy brief to communicate lessons learned and to support the dissemination of tools, which coastal managers to improve coastal resilience in Europe and elsewhere.
Recent and historic high-impact storm events have demonstrated the vulnerability of coastal zones in Europe. Among these events are the 2010 Xynthia storm in France, the 2013 Xavier/St. Nicholas storm in North-West Europe and the 2014 St. Agatha storm in the Adriatic as well as historic event such as the 1953 Flood in Northwest Europe, 1962 Floods in Hamburg and the 1872 flood in Kiel Fjord, and even older events. Moreover, coastal vulnerability is likely to increase. Due to predicted climate change the hazards of sea level rise and coastal flooding may increase, and due to on-going coastal development the impact (or consequences) will increase.
These require a re-evaluation of coastal disaster risk reduction (DRR) strategies and a new mix of prevention, mitigation and preparedness measures. The interdisciplinary project team of the RISC-KIT project developed tools and approaches to reduce risk and increase resilience which were tested in ten costal cases studies in Europe.
The Policy Brief offers an assessment of the current state of Disaster and Flood Risk Management in Europe according to the Sendai Framework for disaster risk reduction and the European Flood Directive, demonstrates the entanglement of the tools developed in RISCKIT with the political commitment and provides an overview of the  tools by utilizing graphs and charts. The Policy Brief provides practical recommendations for the improvement of coastal resilience and is geared towards national and regional level coastal policy making.
The Brief will be launched at the RISC-KIT final conference at the beginning of April in Delft and will be available for download on mobile devises.
Contact