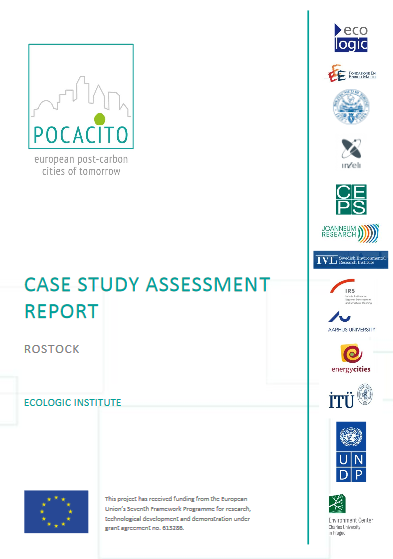 Case Study Assessment Report – Rostock
Publication

Citation

Albrecht, S., Schock, M. (2015): Individual Case Study Assessment Report – Rostock. European Union FP7: POCACITO - Post-carbon cities in Europe: A long-term outlook under the grant agreement n° 613286. WP3 Deliverable.
This assessment report gives an overview of the key indicators for the POCACITO (Post-Carbon Cities of Tomorrow) case study of Rostock. This mid-sized city is located in Central Europe on the north-east coast of Germany. Rostock is a regional centre and coastal city. The assessment provides an outline of some of its main challenges and opportunities. The report was used in the POCACITO project for workshops with stakeholders in Rostock on vision building and back-casting to derive a 2050 roadmap as well as a scenario modelling on Rostocks measures for climate change mitigation.
The data was collected in a bottom-up approach through the local authorities, mainly the environmental agency of Rostock, and a top-down approach through statistical data and other relevant documents. One major data source was the town hall website1 and the yearbook "Statistisches Jahrbuch Hansestadt Rostock 2013". As Rostock is a master plan commune for 100% climate protection, it has already gathered much relevant data.
Language

Authorship

Stefanie Albrecht

Michael Schock

Funding

Year

Dimension

25 pp.

Project

Project ID

Table of contents

Click to show full table of contents

I INTRODUCTION
II APPROACH AND METHODOLOGY
II.I MODEL AND CONCEPT
II.II DATA COLLECTION PROCESS
III OVERVIEW OF THE CASE STUDY CITY
III.I TERRITORY
III.II POPULATION
III.III ECONOMY
IV KEY STRATEGIES AND PROJECTS
IV.I STRATEGIES AND ACTION PLANS
IV.II KEY PROJECTS
V CASE STUDY CITY ASSESSMENT
V.I ENVIROMENTAL PERFORMANCE
V.I.I Variation rate of ecosystem protected areas
V.I.II Energy intensity variation rate
V.I.III Variation rate of energy consumption by sectors
V.I.IV Variation rate of carbon emissions intensity
V.I.V Variation rate of carbon emissions by sector
V.I.VI Exceedance rate of air quality limit values
V.I.VII Variation share of sustainable transportation
V.I.VIII Variation rate of urban waste generation
V.I.IX Variation rate of urban waste recovery
V.I.X Variation rate of water losses
V.I.XI Energy - efficient buildings variation rate
V.I.XII Urban building density variation rate
V.II SOCIAL PERFORMANCE
V.II.I Variation rate of unemployment level by gender
V.II.II Variation rate of poverty level
V.II.III Rate of tertiary education level by gender
V.II.IV Variation rate of average life expectancy
V.II.V Variation rate of green space availability
V.II.VI Existence of monitoring system for emissions reductions
V.III ECONOMIC PERFORMANCE
V.III.I Level of wealth variation rate
V.III.II Variation rate of GDP by sectors
V.III.III Variation rate of employment by sectors
V.III.IV Variation rate of business survival
V.III.V Variation rate of budget deficit
V.III.VI Variation rate indebtedness level
V.III.VII Variation rate R&D intensity
VI FINDINGS AND KEY CHALLENGES
VII RECOMMENDATIONS
VIII CONCLUSIONS

Keywords

Rostock, Germany