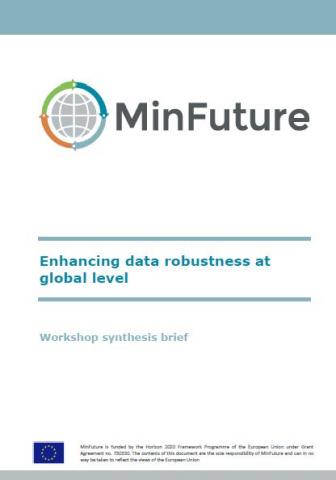 Global Material Flows and Demand-Supply Forecasting for Mineral Strategies – Workshop Brief
MinFuture Workshop Synthesis Brief
Publication

Citation

Hirschnitz-Garbers, M., Lundhaug, M., Billy, R. and Heidenreich, S. (2018). Enhancing data robustness at global level - MinFuture workshop synthesis brief. Berlin: Ecologic Institute
The MinFuture workshop "Enhancing data robustness on global level" served to present and test the MinFuture approach of placing statistical data in a system context so that global information flows on mineral raw material become less fragmented and provide a more complete, comprehensive and realistic picture. The MinFuture Workshop Synthesis Brief is available for download.
Language

Authorship

Dr. Martin Hirschnitz-Garbers

Funding

Published by

Year

Project

Project ID

Table of contents

Click to show full table of contents

1 Introduction to the MinFuture Workshop #2 - Enhancing data robustness at global level
1.1 Main objective and purpose of this workshop
1.2 Structure of this workshop
2 Workshop sessions and main discussions
2.1 Relevance of information and data flows for MFA
2.1.1 Need for improved information flows – the case of Aluminium
2.1.2 Options for improving information and data flows
2.1.3 Design principles
2.2 Parallel session on information flows and data for Cobalt and Construction Minerals
2.2.1 Parallel session on information flows and data on Cobalt
2.2.2 Parallel session on information flows and data on Construction minerals
2.3 Discussion of Potential benefits of, barriers/threats in relation to, and use cases for placing statistical data into their proper system context
2.3.1 Potential long-term benefits
2.3.2 Potential barriers & threats
2.3.3 Potential use cases for illustrating the approach of placing data in a system context
2.4 Relevance and role of indicators in MFA
2.4.1 EC Circular Economy Indicators
2.4.2 Indicators used for Phosphorus management in Austria
2.4.3 Indicators in Policy making – system definition and choosing meaningful indicators.
3 Summary
Annex: List of workshop participants
MinFuture 'Enhancing data robustness Workshop' Synthesis Brief
List of Figures and Tables
Figure 1: Conceptual Framework of MinFuture – the 'MinFuture pyramid'
Table 1: Example Table

Keywords

minerals, demand-supply, population growth, urbanization, technology, material flows, global resource data

Europe

workshop, brief
The MinFuture website provides an overview of the project objectives, structure and partners as well as events and news related to relevant issues of the project. Furthermore, project outputs such as deliverables, policy briefs and publications are regularly promoted on...
Read more
MinFuture Consortium 2017: Global Material Flows and Demand-supply Forecasting for Mineral Strategies (MinFuture). URL: http://minfuture.eu/
The goal of MinFuture is to develop a common methodology to mineral raw material flows at global level, which can be agreed and used at international level. The goal is not to collect data but to support data collectors. Hence this methodology workshop served to discuss...
Read more
Allesch, A. (2017). Methodology development workshop synthesis brief. MinFuture Deliverable D3.1. Vienna: TU Vienna