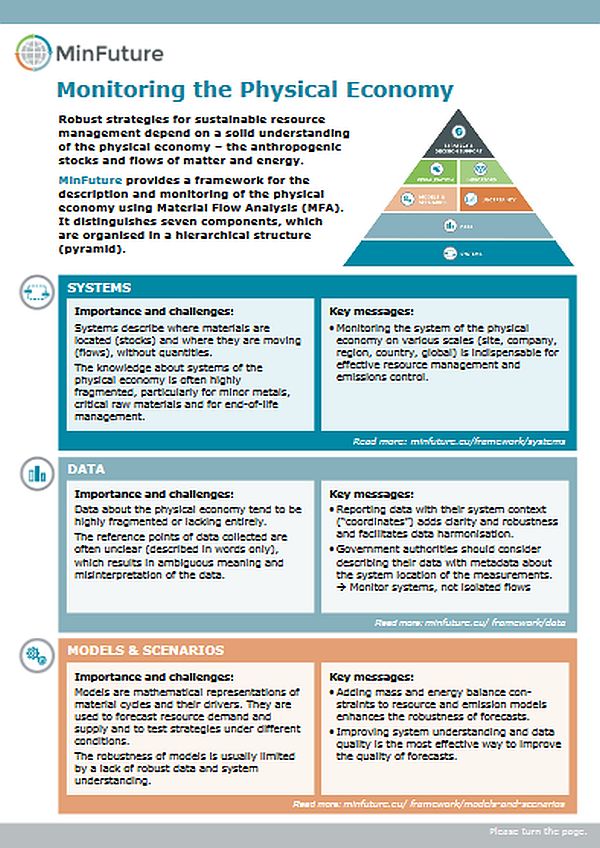 Monitoring the Physical Economy
Publication

Citation

MinFuture project (2018). The MinFuture framework. 2-page document.
Robust strategies for sustainable resource management depend on a solid understanding of the physical economy – the anthropogenic stocks and flows of matter and energy. MinFuture provides a framework for the description and monitoring of the physical economy using Material Flow Analysis (MFA). It distinguishes and visualises seven components, which are organised in a hierarchical structure (pyramid). This factsheet presents the framework and summarizes the project results.
Contact
Language

Credits

Concept: Dr. Martin Hirschnitz-Garbers, Melanie Kemper (Ecologic Institute)
Layout: Melanie Kemper (Ecologic Institute)

Funding

Published by

Year

Dimension

2 pp.

Project

Project ID

Keywords

Natural Resources Exploration and Exploitation, Industrial waste, International trade, Global material flows and supply, Material flows and stocks, Mineral strategies, System analysis, Waste, Primary and Secondary resources, Resource Classification, Demand and Supply forecasting, Foresight / Forecast, Material flows analysis, System analysis, Demand and Supply forecasting

Global, Europe

Factsheet