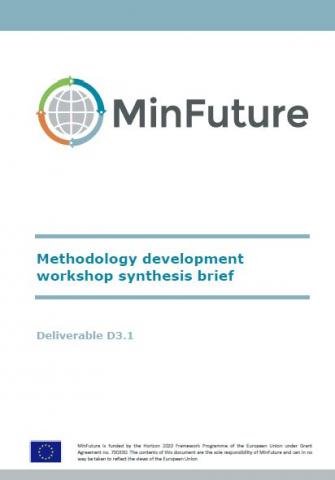 MinFuture – Methodology Development Workshop Synthesis Brief
Publication

Citation

Allesch, A. (2017). Methodology development workshop synthesis brief. MinFuture Deliverable D3.1. Vienna: TU Vienna
The goal of MinFuture is to develop a common methodology to mineral raw material flows at global level, which can be agreed and used at international level. The goal is not to collect data but to support data collectors. Hence this methodology workshop served to discuss how MinFuture could support data collectors, providers and users. The MinFuture Workshop Synthesis Brief is available for download.
Language

Authorship

Dr. Martin Hirschnitz-Garbers

Funding

Published by

Year

Project

Project ID

Table of contents

Click to show full table of contents

1 Introduction
2 Session I: Mineral data collection by Geological Surveys
2.1 Input - Presentations
2.1.1 Evi Petavratzi BGS: Mineral statistics
2.1.2 Tom Heldal NGU: Primary data - Geological Survey of Norway (NGU)
2.1.3 Leopold Weber Geologie Weber: National level Austria
2.2 Discussion of Key Points
3 Session II: Obtaining and harmonising data on urban mines in research projects
3.1 Input - Presentations
3.1.1 Rupert Meyers Yale: An overview of Yale STAF database
3.1.2 Amund Løvik EMPA: PROSUM
3.2 Discussion of Key Points
4 Session III: Material accounting and indicators
4.1 Input - Presentations
4.1.1 Lie Heymans and Philip Nuss EC
4.2 Discussion of Key Points
5 Session IV: Physical National Accounts and international trade
5.1 Input - Presentations
5.1.1 Nancy Snyder UN Statistics: Trade Statistics Perspective
5.1.2 Monika Dittrich & Birte Ewers IFEU:
5.2 Discussion of Key Points
6 Summary
List of Figure
Figure 1: The Raw Materials Scoreboard at a glance
MinFuture Deliverable 3.1: Methodology development workshop synthesis brief
Figure 2: Aspects in trade data reporting that are most crucial & sensitive for result

Keywords

minerals, demand-supply, population growth, urbanization, technology, material flows, global resource data

Europe

workshop, brief
The MinFuture website provides an overview of the project objectives, structure and partners as well as events and news related to relevant issues of the project. Furthermore, project outputs such as deliverables, policy briefs and publications are regularly promoted on...
Read more
MinFuture Consortium 2017: Global Material Flows and Demand-supply Forecasting for Mineral Strategies (MinFuture). URL: http://minfuture.eu/
The MinFuture workshop "Enhancing data robustness on global level" served to present and test the MinFuture approach of placing statistical data in a system context so that global information flows on mineral raw material become less fragmented and provide a more...
Read more
Hirschnitz-Garbers, M., Lundhaug, M., Billy, R. and Heidenreich, S. (2018). Enhancing data robustness at global level - MinFuture workshop synthesis brief. Berlin: Ecologic Institute