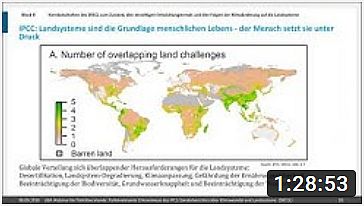 Policy-relevant Findings from the IPCC Special Report on Climate Change and Land (SRCCL)
Event

Date

Location

online, Germany

Speaker
The IPCC published a special report on Climate Change and Land (SRCCL) in August 2019. The report shows that climate change is increasing pressure on land systems. At the same time, however, land systems also play an important role in climate protection, for example through the preservation of ecosystems, more sustainable agriculture and forestry, more climate-friendly diets and the avoidance of food wastage.
The Federal Environment Agency presented selected findings of the SRCCL in a 90-minute webinar on 6 September 2019. Backgrounds to the special report, core messages of the report and political implications of the report were discussed in different content blocks.
The Ecologic Institute supported the UBA in formulating the core messages and presented the political implications for improving the governance of land-based climate protection and mitigation measures in the person of Heino von Meyer.
On 25 October 2019, a further webinar on the IPCC Special Report on "The ocean and the cryosphere in a changing climate" (SROCC) presents selected findings of the SROCC.
Contact