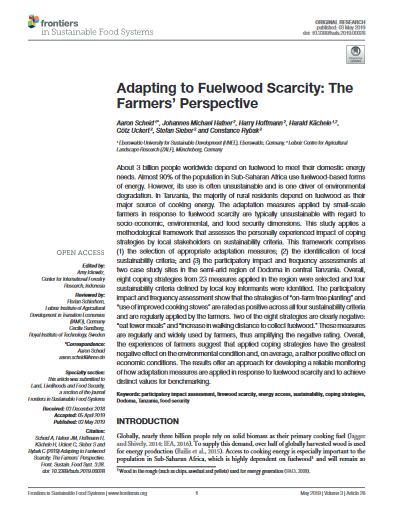 Adapting to Fuelwood Scarcity
The Farmers' Perspective
Publication

Citation

Scheid A, Hafner JM, Hoffmann H, Kächele H, Uckert G, Sieber S and Rybak C (2019) Adapting to Fuelwood Scarcity: The Farmers' Perspective. Front. Sustain. Food Syst. 3:28. doi: 10.3389/fsufs.2019.00028
About 3 billion people worldwide depend on fuelwood to meet their domestic energy needs. Almost 90% of the population in Sub-Saharan Africa use fuelwood-based forms of energy. However, its use is often unsustainable and is one driver of environmental degradation. In Tanzania, the majority of rural residents depend on fuelwood as their major source of cooking energy. The adaptation measures applied by small-scale farmers in response to fuelwood scarcity are typically unsustainable with regard to socio-economic, environmental, and food security dimensions. This study applies a methodological framework that assesses the personally experienced impact of coping strategies by local stakeholders on sustainability criteria. This framework comprises
the selection of appropriate adaptation measures;
the identification of local sustainability criteria; and
the participatory impact and frequency assessments at two case study sites in the semi-arid region of Dodoma in central Tanzania.
Overall, eight coping strategies from 23 measures applied in the region were selected and four sustainability criteria defined by local key informants were identified. The participatory impact and frequency assessment show that the strategies of "on-farm tree planting" and "use of improved cooking stoves" are rated as positive across all four sustainability criteria and are regularly applied by the farmers.
Two of the eight strategies are clearly negative: "eat fewer meals" and "increase in walking distance to collect fuelwood." These measures are regularly and widely used by farmers, thus amplifying the negative rating. Overall, the experiences of farmers suggest that applied coping strategies have the greatest negative effect on the environmental condition and, on average, a rather positive effect on economic conditions. The results offer an approach for developing a reliable monitoring of how adaptation measures are applied in response to fuelwood scarcity and to achieve distinct values for benchmarking.
Contact