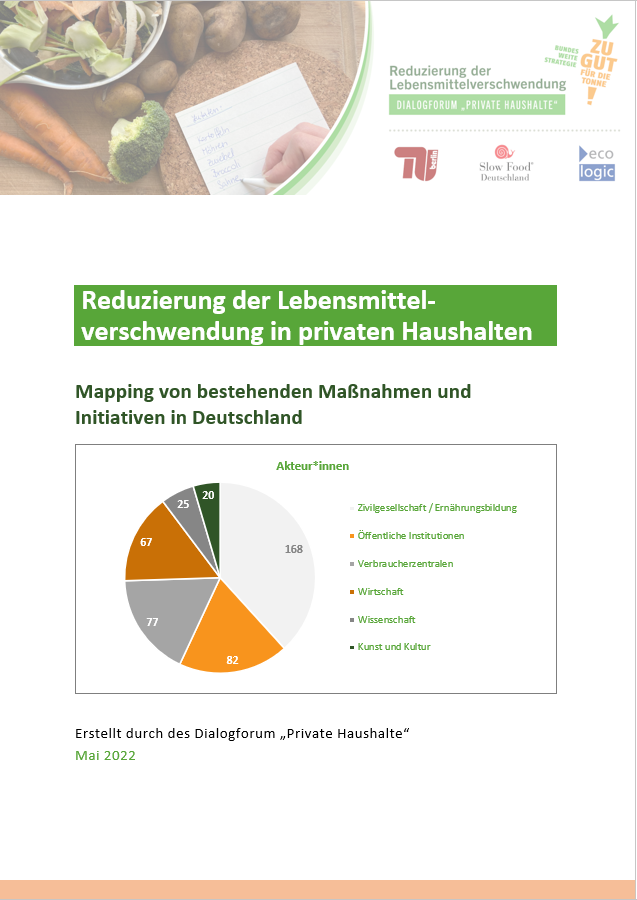 Reduzierung der Lebensmittelverschwendung in privaten Haushalten
Mapping von bestehenden Maßnahmen und Initiativen in Deutschland
Publication

Citation

Wunder, Stephanie; Irina Herb; Leonie Schmidt 2021: Reduzierung der Lebensmittelverschwendung in privaten Haushalten. Mapping von bestehenden Maßnahmen und Initiativen in Deutschland. Berlin: Ecologic Institute.
Throughout Germany, there are numerous actors who are concerned with the reduction of food waste in private households and who develop and implement measures for this purpose. As part of the project Dialogue Forum "Private Households", a mapping of existing actors and initiatives in Germany was carried out and evaluated. The aim of this structured categorisation is to gain an overview of the current landscape of measures in order to identify which effective starting points are already covered by current measures and which are not, and how existing measures can be improved and their effectiveness increased. In addition, the mapping supports the exchange between the initiating actors and other actors in similar areas by providing a basis for networking these actors.

Methodologically, the mapping was carried out through an online questionnaire as well as supplementary research and in-depth interviews. A total of 439 measures carried out by 314 initiatives or actors were recorded and evaluated. The evaluation of the mapping shows that a) the approaches chosen by the current measures aim in particular at raising (problem) awareness and improving knowledge of how to act, b) the orientation of most of the measures examined is rather unspecific (e.g. with regard to the target group or the goals), c) the measures have rarely been evaluated with regard to their effectiveness, and d) measures are currently implemented primarily by actors from civil society, dietary education and public institutions.