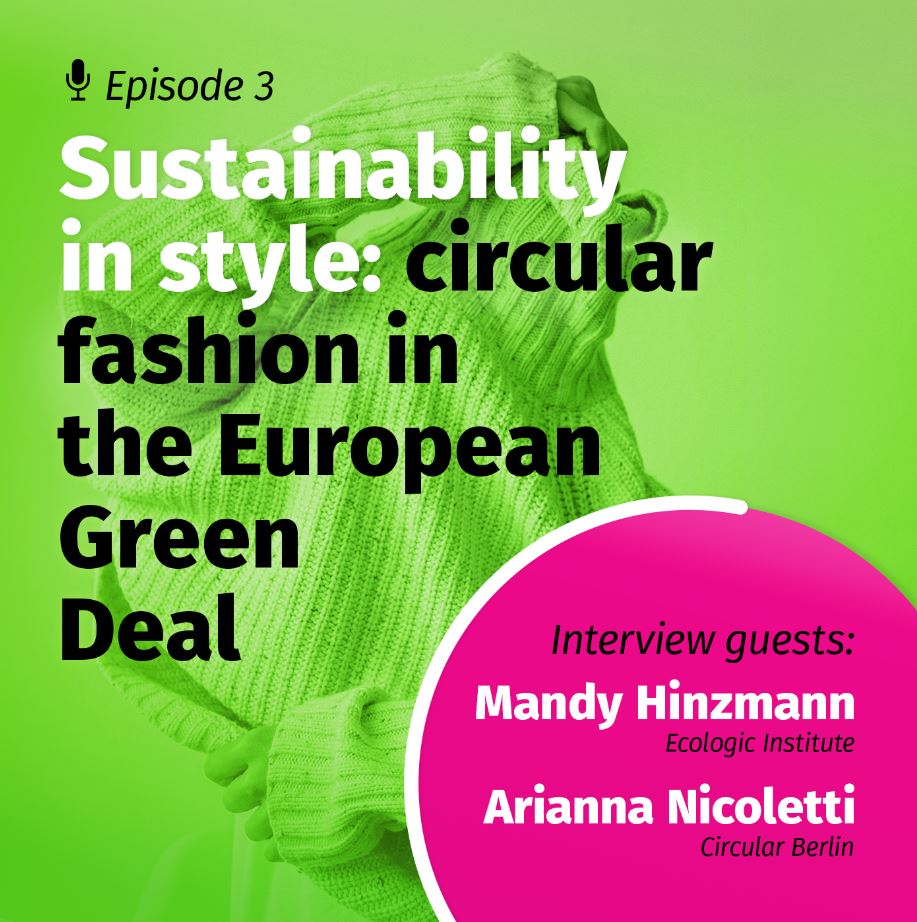 Sustainability in Style: Circular fashion in the European Green Deal
Third episode of the podcast "Green Deal – Big Deal?"
Publication

Citation

Ecologic Institute 2022: Sustainability in style: circular fashion in the European Green Deal . Podcast. 9 June 2022. Online: https://greendealbigdeal.podigee.io
For some, fashion is an expression of personality or culture. For others, clothes are something that ensures comfort or survival. One thing is certain: clothing is something that everyone, everywhere, deals with every day. However, its production has an enormous environmental footprint. Textile production requires huge quantities of water and energy and produces waste and pollution.
Our consumption decisions in terms of buying, using and discarding clothing have a huge systemic impact on the sustainability of the fashion sector. But to consume more consciously, we need transparent information about social and environmental aspects linked to the production of our clothes and their materials. Making fashion more sustainable should therefore be seen as a common effort of policymakers, industry and consumers.
Together with our interview guests Arianna Nicoletti (Circular Textiles Lead at Circular Berlin) and Mandy Hinzmann (Fellow at Ecologic Institute) we explore the concepts of circular and sustainable fashion and discuss the potential impact of the recently published European Union Strategy for Sustainable and Circular Textiles. We also get philosophical and ask: is the constant change and quick consumption an inherent characteristic of fashion?
New episodes will be released every month and can be accessed directly below or streamed on popular podcast platforms, such as Spotify, Apple Podcasts, Deezer, Google Podcasts or Amazon Music. Check out the website for more information on the podcast and webinar series.
Listening to our podcast is nice, but not enough for you? You are in luck! In addition to the podcast series, we are organizing a series of eight online events, targeting young Europeans aged 18-35. Enter the dialogue with us and our invited experts. We are keen to hear your questions, suggestions and ideas and discuss them together. Are you on board? Sign up for our mailing list, and we'll keep you up to date with upcoming webinars.
Links to relevant studies and resources mentioned in the podcast:
Contact