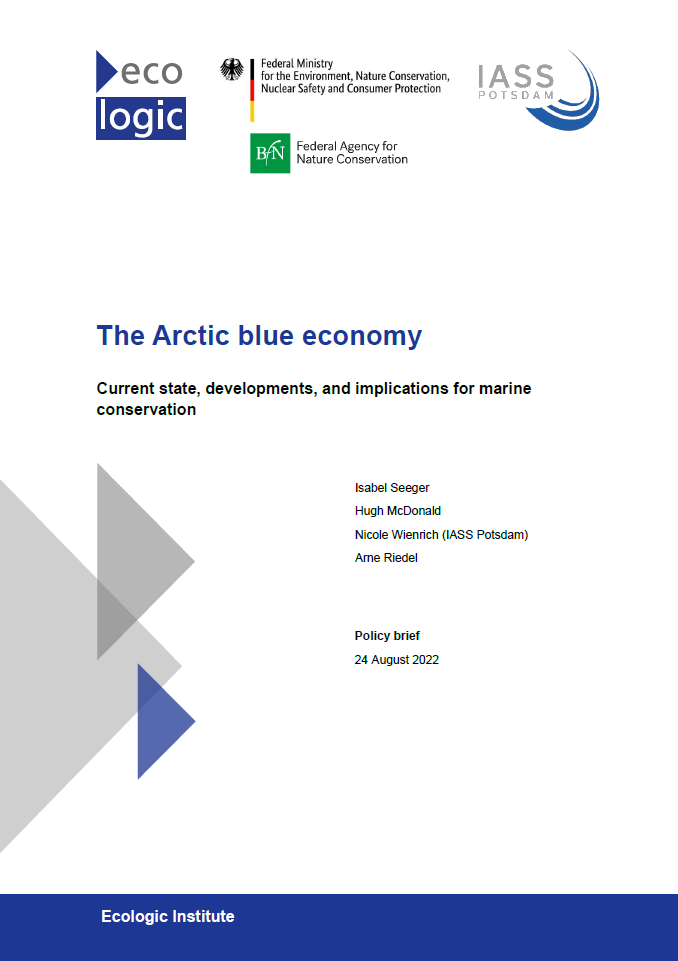 The Arctic Blue Economy
Current state, developments, and implications for marine conservation
Publication

Citation

Seeger, Isabel, Hugh McDonald, Nicole Wienrich and Arne Riedel (2022): The Arctic blue economy: current state, developments, and implications for marine conservation. Ecologic Institute, Berlin.
Arctic marine biodiversity is under threat from climate change, as well as from economic development in sectors such as maritime transport, offshore oil and gas exploration and extraction, fishing, aquaculture, and cruise tourism. The pressures that these sectors can place on Arctic biodiversity means the development of these sectors will have implications for marine biodiversity conservation objectives.
This policy brief surveys the current state and recent development of the Arctic blue economy in the five Arctic coastal states (Canada, Denmark, USA, Russia and Norway), as well as the Arctic High Seas, to understand potential impacts on Arctic marine biodiversity. It also analyses the driving factors behind these developments.
We build on case studies developed as part of the Ark-MPA project that summarise recent literature and data on sectoral economic development in the Arctic marine states.
The findings of this brief can support decision-makers to identify and manage conflicts between economic development and biodiversity objectives.
Contact