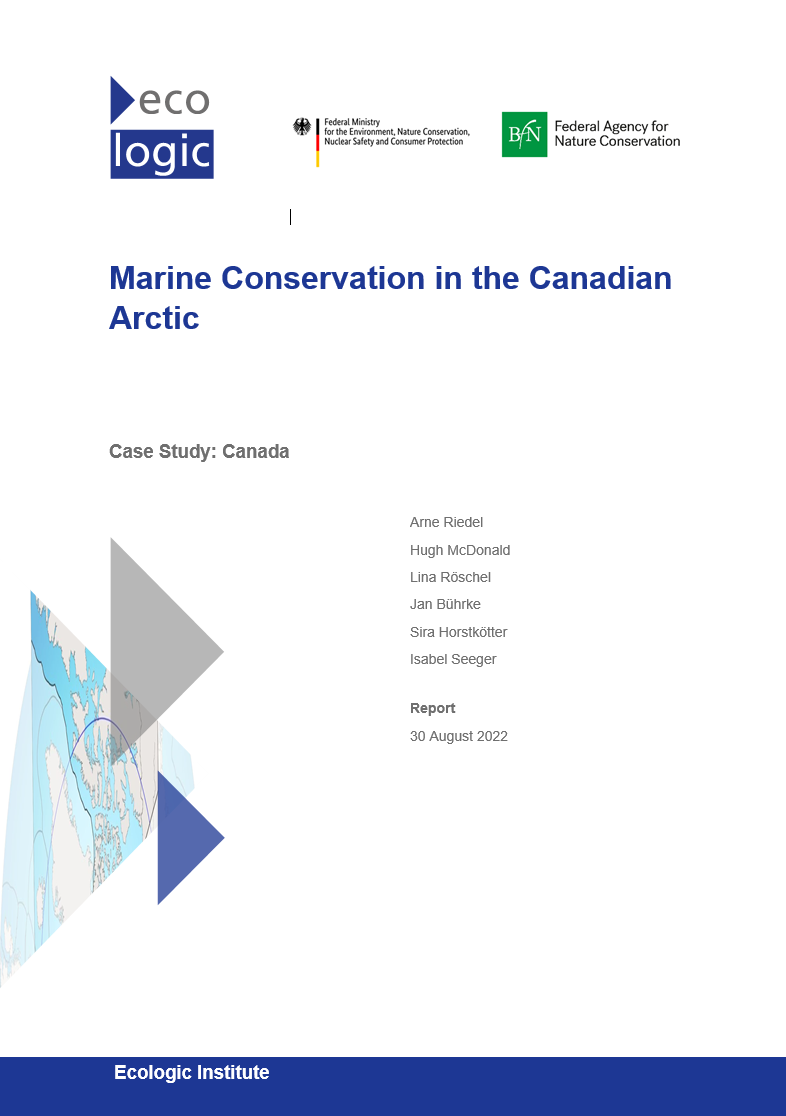 Marine Conservation in the Canadian Arctic
ArkMPA Case Study: Canada
Publication

Citation

Riedel, Arne, Hugh McDonald, Lina Röschel, Jan Bührke, Sira Horstkötter, and Isabel Seeger (2022). Marine Conservation in the Canadian Arctic. Ecologic Institute, Berlin.
The ocean area in the Canadian Arctic covers an equivalent of over 40% of Canada's landmass. It comprises diverse landscapes, biodiversity, and habitats and is linked to various economic activities, such as fishing, shipping, and oil and gas exploration and exploitation. Canada's Arctic area is home to more than 130,000 people. Almost half are Indigenous populations of Inuit Nunangat, which inhabit a significant part of Canada's coastline, as well as First Nations and Métis. Many of them trace their heritage back to time immemorial. Indigenous coastal communities depend on Arctic waters for subsistence, including fisheries and transport. The Canadian Arctic is vast, and the responsible governance entities vary for different regions. This, along with accelerating sea ice decline linked to global warming, has important implications for the governance of the region.
This report contains one of six case studies of the ArkMPA, including five on marine policies in states bordering the Arctic Ocean, and one overarching regional report. The case study provides an overview of the Canadian marine Arctic environment in terms of:
the state and status of its ecosystems and their biodiversity;
the drivers and associated pressures that impact marine ecosystem health, as well as
the policies in place to protect the marine environment, in particular through marine protected areas.
Indigenous Peoples are heavily affected by both, the changes of the ecosystem, and by the Canadian marine policies. This case study provides some elements in the respective context, and an offers a separate section with additional detail.
Contact