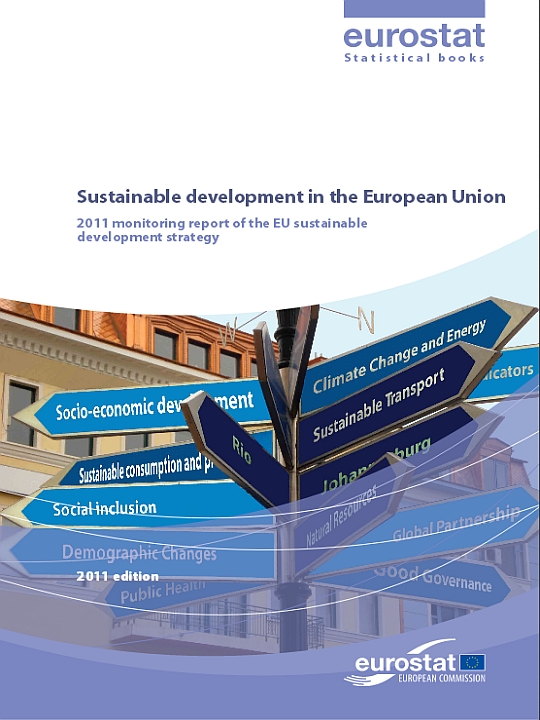 Sustainable Development in the European Union – 2011
2011 Monitoring Report of the EU Sustainable Development Strategy
Publication

Citation

European Commission (ed.) 2011: Sustainable development in the European Union. 2011 monitoring report of the EU sustainable development strategy. Luxembourg: Office for Official Publications of the European Communities.
The 2011 Eurostat monitoring report reviews the progress and implementation of the EU sustainable development strategy. The 2011 monitoring report was published on the Eurostat website. As partner in a consortium with the Vienna University of Economic and Business (RIMAS), INFRAS, and the Institute for Public Policy Research (IPPR), the Ecologic Institute played a substantial role in drafting the monitoring report on behalf of Eurostat.
The Eurostat monitoring report is based on the EU set of sustainable development indicators and provides an overview of progress towards the goals and objectives of the EU sustainable development strategy. It is published every two years and is intended to contribute to the biennial review on the implementation of the strategy by the European Council. The statistics cover a wide range of issues related to sustainable development. The data presented cover the period from 1990 to the latest year available (2010/11 where possible).
Ecologic Institute drafted the following chapters: Climate change and Energy, Natural Resources and Global Partnership.
The 2011 monitoring report [pdf, 18.2 MB, English] can be downloaded from the Eurostat website.
Contact