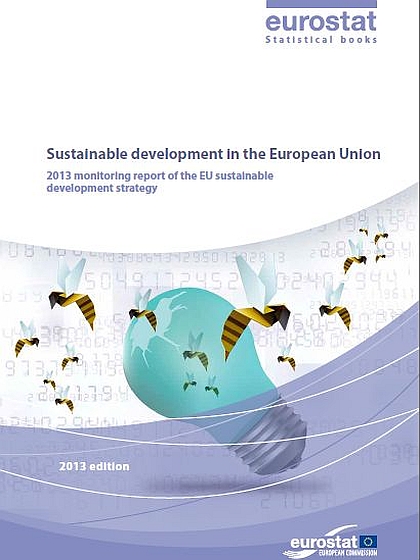 Sustainable Development in the European Union – 2013
2013 Monitoring Report of the EU Sustainable Development Strategy
Publication

Citation

Popova, Mariana et al. (eds.) 2013: Sustainable development in the European Union. 2013 monitoring report of the EU sustainable development strategy. [eurostat Statistical books 2013 edition]. Luxembourg: Publications Office of the European Union.
Is there a trend towards more sustainable consumption patterns in the European Union (EU)? Is there a reduction in EU greenhouse gas emissions? Is the EU losing its natural capital? Answers to these and other questions are presented in the 2013 Eurostat monitoring report on Sustainable Development in the European Union. As partner in a consortium with the Vienna University of Economic and Business, INFRAS, and Haymarket Media Group, the Ecologic Institute played a substantial role in drafting the 2013 Eurostat monitoring report.The monitoring report is available for download.
The European Commission regularly tracks the progress being made towards sustainable development objectives within the EU and the individual Member States, drawing upon sustainable development indicators. Eurostat's role is to produce a monitoring report every two years based on these indicators. The statistics cover a wide range of issues related to sustainable development and address the period from 2000 to the latest year available (2011/12, where possible). Ecologic Institute drafted the chapters entitled: Climate change and Energy, Natural Resources and Global Partnership.
The 2013 monitoring report [pdf, 22 MB, English] can be downloaded from the Eurostat website.
Contact