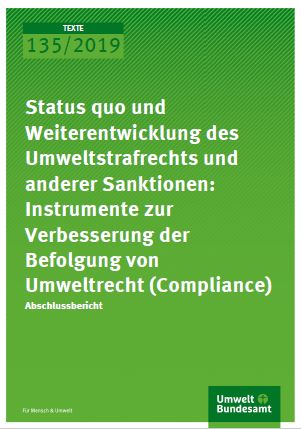 Status quo und Weiterentwicklung des Umweltstrafrechts und anderer Sanktionen
Instrumente zur Verbesserung der Befolgung von Umweltrecht (Compliance)
Publication

Citation

Gerstetter, Christiane et. al. 2019: Status quo und Weiterentwicklung des Umweltstrafrechts und anderer Sanktionen: Instrumente zur Verbesserung der Befolgung von Umweltrecht (Compliance). Umweltbundesamt: Dessau-Roßlau.
A 2018 report co-published by Interpol estimates the annual turnover generated by environmental crime at 110 - 281 billion US dollars. Environmental crime causes significant damage to the environment and public health. This report presents insights on environmental criminal law and its application in Germany. It is the result of a research project carried out by Ecologic Institute for the German Federal Environment Agency (Umweltbundesamt). The report is available for download.
The report confirms previous findings on an existing deficit in the implementation of environmental (criminal) law in Germany. Important contributing factors are a lack of staff in competent authorities, the lack of specialisation of authorities, the technical and scientific character of investigations into environmental crimes, the complexity of the legal framework and the fact that environmental crimes often do not enjoy a high priority in enforcement compared to other types of crime.
The report is based on a review of existing research literature and other relevant documents, data on environmental infringements received from authorities in several German federal states (Bundesländer) and more than 30 qualitative research interviews with enforcement practitioners in courts, prosecutors' offices, police/customs and environmental administrative authorities in five states and at the federal level.
The report provides an overview of the political discussion on environmental crime at the international, European and German levels. It discusses the data situation on environmental crime and environmental infringements in Germany and presents selected data. Further sections introduce central findings of the economic analysis of environmental law and summarise the literature on the implementation of environmental law by German authorities. The results of the research interviews are also presented. Moreover, the report identifies areas for further research. It ends with a summary of key findings and recommendations.
The report is written in German and contains an English summary.
As background to the main study, country profiles on several EU Member States have been compiled.
Contact