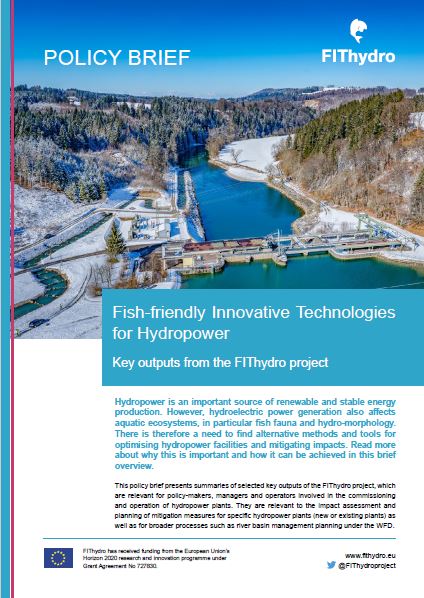 Fish-friendly Innovative Technologies for Hydropower
Key outputs from the FIThydro project
Publication

Citation

Kampa, E., Berg, L. (edit.), 2020: Fish-friendly Innovative Technologies for Hydropower. Key outputs from the FIThydro project. Policy Brief.
Hydropower is an important source of renewable and stable energy production. However, hydroelectric power generation also affects aquatic ecosystems, in particular fish fauna and hydro-morphology. There is therefore a need to find alternative methods and tools for optimising hydropower facilities and mitigating impacts.
This policy brief presents summaries of selected key outputs of the FIThydro project, which are relevant for policy-makers, managers and operators involved in the commissioning and operation of hydropower plants. These project outputs are relevant to the impact assessment and planning of mitigation measures for specific hydropower plants (new or existing plants) as well as for broader processes such as river basin management planning under the Water Framework Directive.
Contact