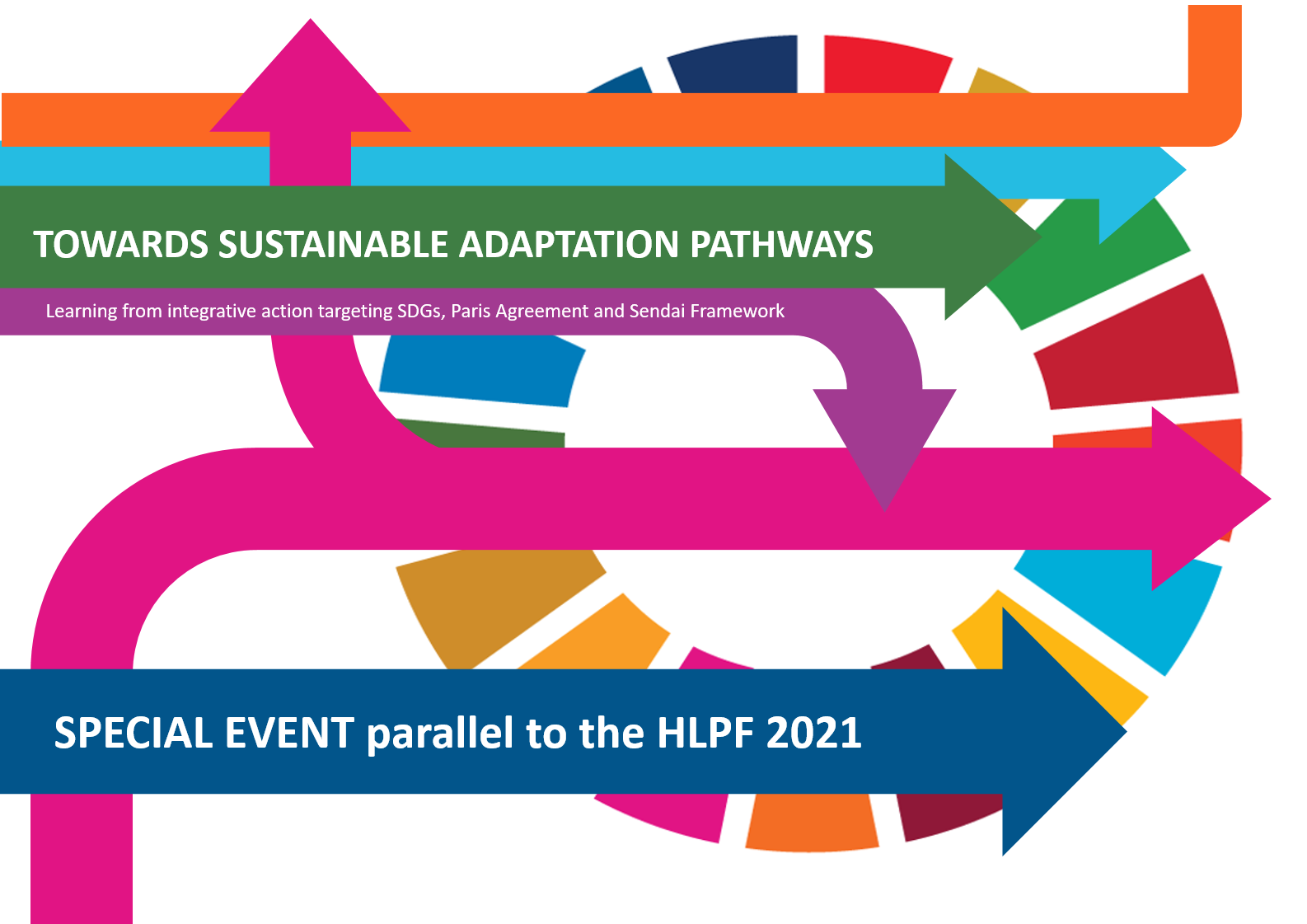 Towards Sustainable Adaptation Pathways
Learning from integrative action targeting SDGs, Paris Agreement and Sendai Framework
Event

Date

Location

online

Speaker
On 7 July 2021, Ecologic Institute organized an online event to discuss insights on Sustainable Adaptation Pathways gained in the project "Joint implementation of the 2030 Agenda and the Paris Agreement". The panel discussion was moderated by Camilla Bausch, Director of Ecologic Institute and took place as a virtual event parallel to the High-Level Political Forum on Sustainable Development 2021 of the United Nations. A diverse and international panel of local and (inter)national experts discussed interlinkages and overlaps between the 2030 Agenda for Sustainable Development, climate adaptation goals under the Paris Agreement and the Sendai Framework for Disaster Risk Reduction. In his keynote speech, Dirk Messner, President of the German Environment Agency, introduced the concept of Sustainable Adaptation Pathways. He highlighted the need to take into account the local level to identify needs and vulnerabilities as well as to incorporate past experiences. He also emphasized that one-size-fits all solutions are not suitable for sustainable adaptation.  His speech was followed by a presentation by Jenny Tröltzsch, Coordinator Adaptation at Ecologic Institute, who illustrated the approach in more details by presenting different case studies. In addition to Dirk Messner, the following experts participated in the subsequent panel discussion:
Loretta Hieber Girardet | Chief Risk Knowledge, Monitoring and Capacity Development at United Nations Office for Disaster Risk Reduction (UNDRR)
Madhushree Chatterjee | Chief of Natural Resources and Interlinkages Branch at the Division for Sustainable Goals of the Department of Economic and Social Affairs (UN DESA)
Rodrigo Rodriguez Tornquist | Secretary of Climate Change, Sustainable Development and Innovation at Argentina's Ministry of Environment and Sustainable Development
David Jácome Polit | Chief Resilience Officer Of the City of Quito
The panelists discussed how to orient pathways best towards overarching goals, with stakeholders from different areas engaging in discussions to jointly reach these goals in a systemic way. Panelists also stressed the need of governments to implement cross-sectoral and transboundary approaches instead of working in siloed approaches. Different ministries should engage in a cross-sectoral manner, e.g. through regular monthly exchanges between working groups or roundtables.
Panelists also shed light on the role of comprehensive data availability and sharing to support evidence-based decision-making, monitoring, and the assessment of risks and vulnerabilities. In reality, poor data sharing and use persist in many countries at different levels. Luckily, disaster risk management and climate change adaptation are increasingly seen as interconnected challenges and are integrated under comprehensive risk management. Thus, several national approaches exist to enhance data sharing. In this regard, Loretta Hieber Girardet, UNDRR, referred to the Global Risk Assessment Framework. This overarching platform, which aggregates multiple datasets to inform national adaptation policymaking, is currently under development.
A recording of the event can be accessed here.
Contact