Ecologic Institute Newsletter No 228 – September 2021
Ecologic Institute Newsletter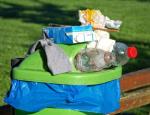 Our Current Research on Sustainable Resource Use
Dear Readers,
Resource use is increasing globally – since 1970, global extraction of biomass, fossil fuels, industry minerals and metals has almost quadrupled. At the same time, per capita resource use is on the rise, most significantly in countries of the Global North. In order to use natural resources sustainably and within the planetary boundaries for generations to come, resource conservation and a circular economy need our attention. At Ecologic Institute, we therefore join scientific research forces from different angles. We place one focus on Resource Conservation and Circular Economy in general, and an additional one on Plastics in particular. Some important aspects and results of our work are presented in this newsletter edition:
In the field of Resource Conservation and Circular Economy we explore in a scientific article the perspectives on climate-resource-nexus policies, analysing potential interactions between climate and resource policy in different world regions. Scientific studies mostly address greenhouse gas emission reduction potentials of resource efficiency approaches, e.g. lifetime extension, material substitution, and recycling. Findings from interviews reveal that climate and resource policy measures will have to differ between regions to improve relevance and fit, and that silo culture may prevent an integrated climate-resource-nexus perspective. We also look at the ecomodulation of fees as a way forward for waste prevention, taking a closer look at the possibilities the extended producer responsibility (EPR) could have. The analysis shows that a systemic change in both, the EPR and the ecomodulation of fees is required in a way focusing more on waste prevention measures. At the EU level, the textile value chain is currently in the focus of efforts to build a circular economy. Though textile recycling in the EU is still in its infancy, promising innovative technologies are entering the market. We shed light on how and which policies can support the industrial uptake of textile recycling.
In the field of Plastics, we were part of a large inter- and also transdisciplinary group of scientists to gather a comprehensive compendium compiling the most important terms around plastics in the environment. Terms and definitions in the technical and regulatory field are very closely linked to specific areas of application. This is why there are sometimes different levels of meaning to a term. The objective of this handbook is to contribute to a common understanding of the numerous relevant terms. Furthermore, we also contributed from a scientific point of view the facts and figures to the non-fiction youth book "Plastik, Müll und Ich".

Happy reading,
Doris Knoblauch and Dr. Martin Hirschnitz-Garbers