ICAP Online ETS Academy 2021
Event

Date

-

Location

online

Speaker
From 16 August to 10 September 2021, the International Carbon Action Partnership (ICAP) convened the first ICAP Online ETS Academy. The Academy consisted of four modules (ETS basics, ETS implementation, policy & politics of emissions trading, global & regional action on emissions trading) of one week each. These modules were designed as self-contained learning units, focusing on different aspects of ETS design and implementation, and progressing from basic to intermediate to advanced. Applicants could apply for one, two or three modules. 40-45 carefully selected professionals from the public, nongovernmental, academic and private sectors participated in each module. Participants came from 35 different countries from Latin America, Asia, Africa and Eastern Europe. The course offered participants an opportunity to deepen their understanding of ETS design and implementation and provided illustration through hands-on examples, practical experience and case studies.
Teaching faculty consisted of many internationally distinguished ETS experts, experienced policy makers and senior officials from ICAP member jurisdictions, as well as practitioners and representatives from established educational and research institutions active in the area of emissions trading and climate policy, market analysts and industry representatives. Their inputs provided the basis for vivid exchange among participants and experts. Benjamin Görlach (Ecologic Institute), Michael Mehling (Massachusetts Institute of Technology) and Pedro Barata (Get2C) served as facilitators and guided participants through the academy. Speakers included policy makers from ICAP member jurisdictions (Germany, the Netherlands, the USA and Quebec as well as the EU Commission), international ETS experts (SinoCarbon, Emergent Climate, SQ consult, IDDRI, Carzee Carbon, Environmental Defense Fund) as well as representatives from the International Energy Agency and the World Bank.
They conveyed in-depth understanding of emissions trading as an instrument to reduce greenhouse gas emissions and built capacity for the technical design and implementation of carbon trading systems. Moreover, the modules were designed to give participants ample opportunities to interact with each other and with the teaching faculty. In addition, a suite of tools and methods served to make the event interactive, lively and engaging – from online polls and an online whiteboard, to roleplaying games and short break-out groups, to the multi-session carbon trading simulation game CarbonSim. The Ecologic Institute implemented the ICAP online ETS Academy on behalf of ICAP, the International Carbon Action Partnership. It was made possible through the generous support of the European Commission.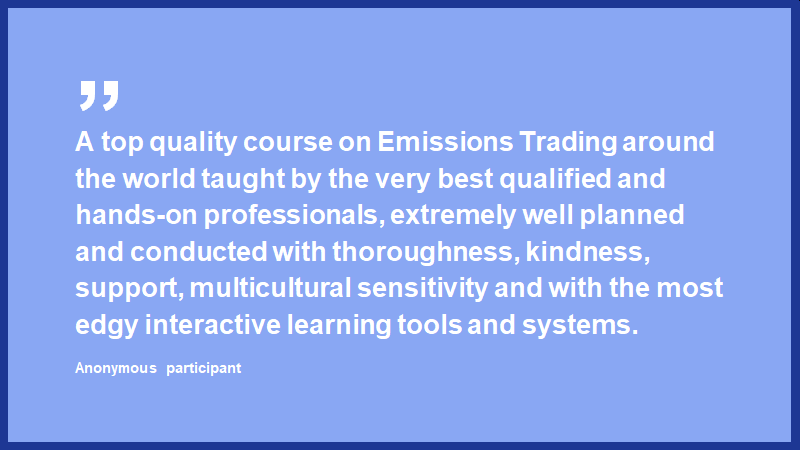 Contact