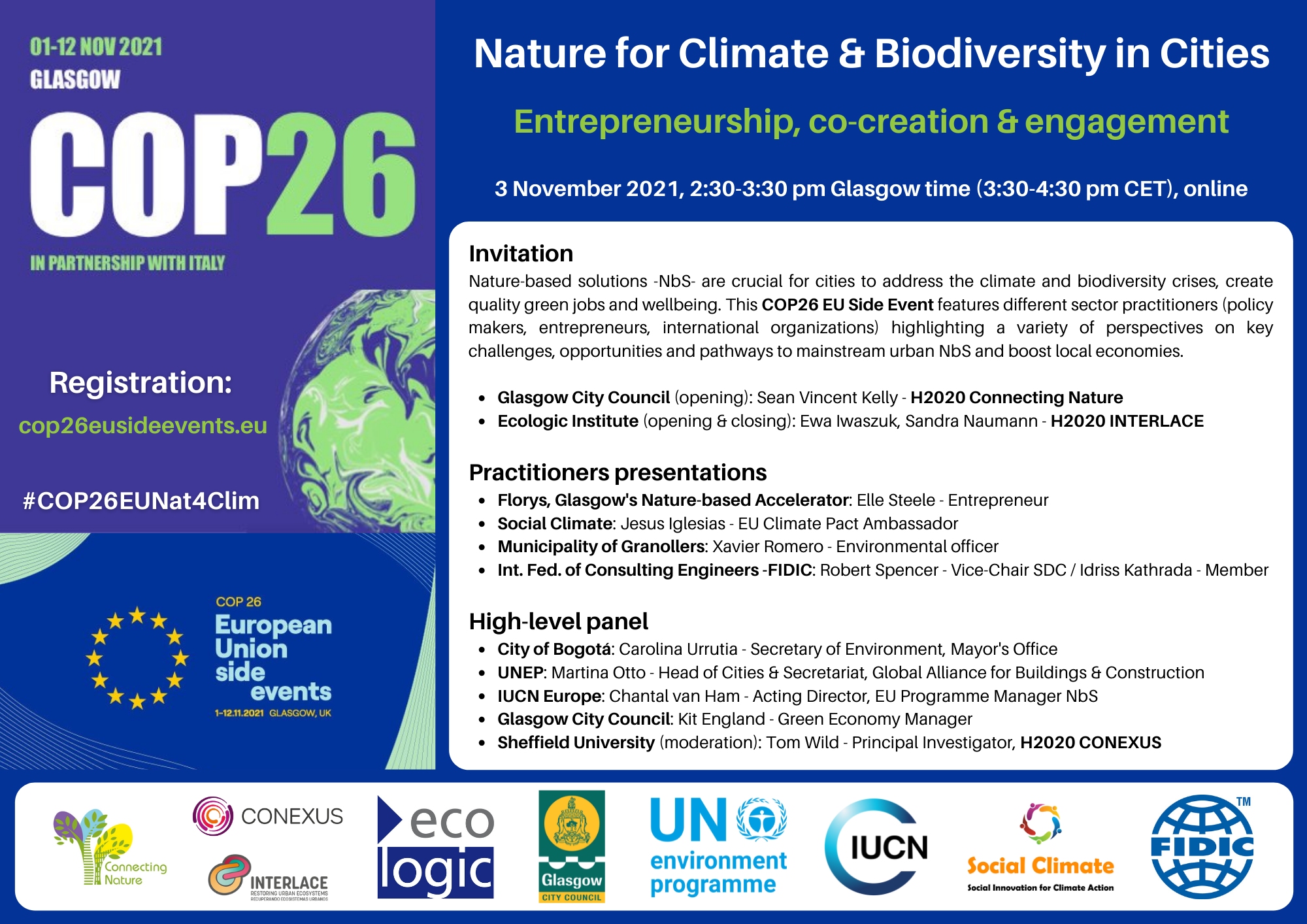 Nature for Climate & Biodiversity in Cities
Entrepreneurship, co-creation & engagement
Event

Date

Location

online

Speaker

Hashtag
Nature-based solutions (NbS) are crucial for cities to jointly address the climate and biodiversity crises, while creating quality green jobs and wellbeing for local communities. This COP26 EU Side Event featured different sector practitioners (policy makers, entrepreneurs, international organizations) delivering inspiring presentations and engaging in a panel discussion highlighting a variety of perspectives on key challenges, opportunities, and pathways to mainstream urban NbS and boost local economies.
This online session was hosted by the EU Pavilion at COP26. The session revolved around the role of urban nature-based solutions to address the climate and biodiversity crises, create quality green jobs, and bring about holistic wellbeing. It was jointly organized by representatives of three Horizon2020 consortia INTERLACE, CONEXUS and Connecting Nature, as well as FIDIC (International Federation of Consulting Engineers).
The event was moderated by Ecologic Institute's Ewa Iwaszuk.
Sandra Naumann (Ecologic Institute) highlighted the important role restoring and protecting ecosystems globally plays in addressing the climate crisis. She pointed out that bringing more nature into urban areas by implementing NbS is key to the recovery of urban ecosystems, and it supports climate mitigation and adaptation in urban areas, with co-benefits for human health, biodiversity or resilience. Sean Vincent Kelly (Glasgow City Council) highlighted the role NbS play in implementing Glasgow's Open Space Strategy and announced the upcoming European Commission publication on nature-based economy, based on the Connecting Nature's Nature-based Economy White Paper.
Four inspiring presentations from different sector practitioners included inputs from:
Elle Steele and Felicity Steers (FLORYS, Glasgow's Nature-based Accelerator), the creaters of Halo Gardens, circles of planting which enable social distancing and recognise and celebrate response to the pandemic in a green space context and allows communities to come together to heal and to flourish.
Jesus Iglesias, (Social Climate) who discussed how NbS are being promoted by means of social entrepreneurship and community engagement in the city of Malaga, Spain, with activities such as "climate hackathons", nature-based startup incubators and guided tours highlighting local impacts of and solutions to climate crisis
Xavier Romero (Municipality of Granollers) who presented how the city of Granollers is implementing the INTERLACE Nature-People-Places approach to restore urban and peri-urban ecosystems, cultivate the public use of local green areas to bring the citizens together and bring more nature into the densely urbanized central areas.
Idriss Kathrada (FIDIC), discussed the importance of, challenges and approaches to mainstreaming urban NbS among the experts in engineering and construction professions
The second half of the event featured a high-level panel discussion with representatives of local governments and international institutions reflecting on key challenges, opportunities and pathways to mainstream urban NBS. The discussion was moderated by Tom Wild (University of Sheffield) and featured the following experts:
Carolina Urrutia – Secretary of Environment, Mayor's Office, City of Bogotá,
Martina Otto – Head of Cities & Secretariat, Global Alliance for Buildings & Construction, UNEP,
Chantal van Ham – Acting Director, EU Programme Manager NbS, IUCN Europe and
Kit England – Green Economy Manager, Glasgow City Council.
The discussion highlighted the importance of innovative governance arrangements connecting multiple levels and sectors of governance, connecting communities with nature and gaining citizens' support of NBS interventions, strengthening the connections between cities and wider ecosystems, integrating NBS within grey infrastructure projects, workforce training, and scaling up the number of organizations and businesses that work on nature-based solutions.
You can watch the full recording of the event below:
Contact