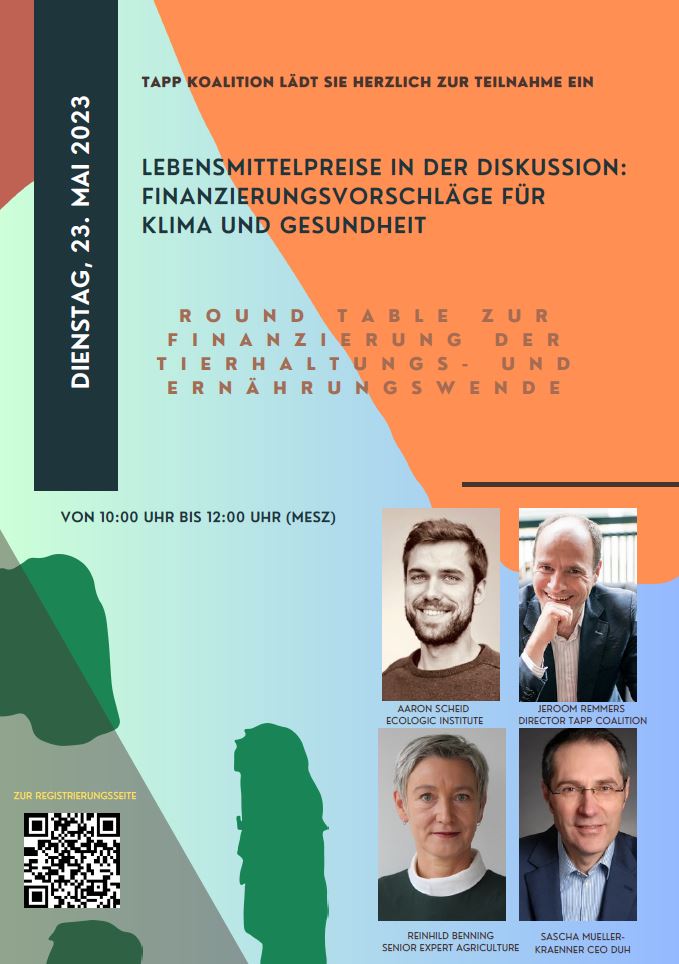 Pay as You Eat Meat
Round Table: External cost estimates and policy options to internalise them in Germany
Presentation

Date

23 May 2023 | 10:00-12:00

Location

Berlin, Germany

Panel discussion
A study commissioned by the TAPP Coalition (True Animal Protein Price Coalition) and co-authored by Ecologic Institute shows that true costs for animal products that takes into account all societal costs has a positive impact on society.
Healthy and sustainable foods become more affordable, while food items with high carbon footprints or negative health effects become more expensive. Subsidies for healthy and sustainable foods could keep food prices stable or even lower for consumers. This approach already has the support of a broad majority of consumers in Germany, the Netherlands and France.
What are policymakers waiting for? During the event, Aaron Scheid presented the key findings of the study and, together with the panel, discuss German consumers' key motivations for paying the "real" price for food. Feasible and tangible policy options to internalize "external costs" for animal proteins in German, which are in line with the government's ambition to make healthy and sustainable food an affordable option, were also discussed.
This event was organized by the TAPP Coalition and featured:
Aaron Scheid, Fellow, Ecologic Institute
Jeroom Remmers, Director, TAPP Coalition
Reinhild Benning, Senior Agriculture Expert, Deutsche Umwelthilfe
Sascha Mueller-Kraenner, CEO, Deutsche Umwelthilfe and Board Member of Ecologic Institute
You can find more information about the study here.
Contact