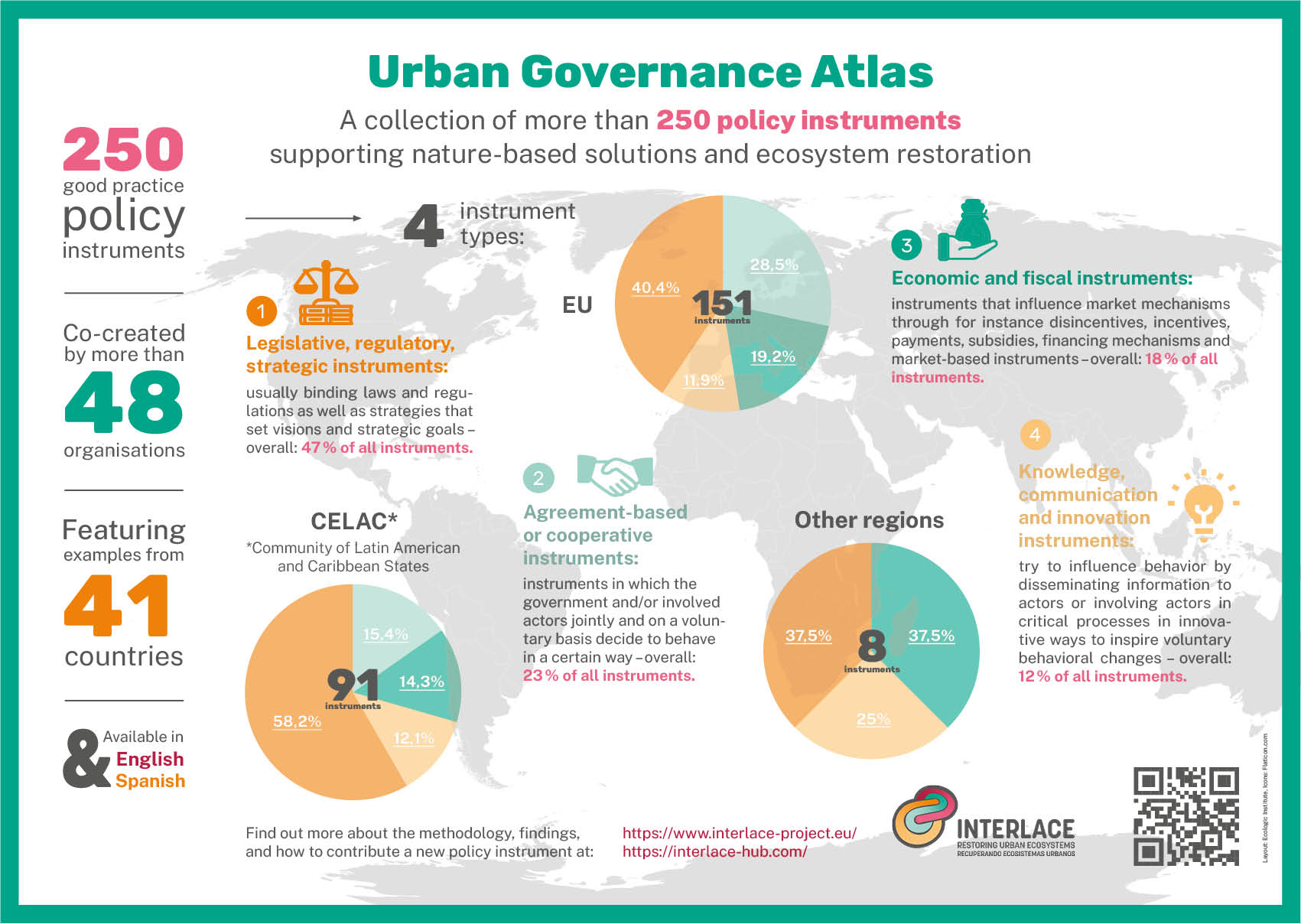 Urban Governance Atlas
Publication

Citation

INTERLACE project consortium 2023: Urban Governance Atlas. Interactive database. Published on 11 May 2023. Online: https://interlace-hub.com/urban-governance-atlas.
The INTERLACE Urban Governance Atlas was officially launched on 11 May 2023 at the INTERLACE Cities Talk Nature Conference in Chemnitz. The first of its kind, the online database showcases 250 policy instruments from 41 countries supporting nature-based solutions and ecosystem restoration. The interactive design invites policymakers, urban planners, researchers, civil society organizations, and others to explore and learn more about what made the instruments successful, lessons learned in their design and implementation, and their approaches to governance. The Urban Governance Atlas was developed from February 2021 until May 2023 as part of the INTERLACE project. The process has been coordinated by McKenna Davis and Natalia Burgos Cuevas (Ecologic Institute), with the support of many INTERLACE partners and external contributors.
There are many different types of policy instruments that can support nature-based solutions and ecosystem restoration. The Urban Governance Atlas organises policy instruments into four categories: legislative, regulatory and strategic instruments; economic and fiscal instruments; agreement-based or cooperative instruments; and knowledge, communication and innovation instruments. Good practice examples have been included in the Atlas across these categories, i.e. policy instruments that are inclusive, effective, serve multiple functions, sustainable in the long-term, locally appropriate, replicable, innovative and/or financially viable.
Users of the Urban Governance Atlas can search for the policy instruments that are most relevant to their context or interests through an advanced filtering system (e.g. by type of instrument, region, or challenges addressed). All content is available in both English and Spanish, with more languages to come.
Visit the Urban Governance Atlas to discover how urban resilience, biodiversity, and social inclusion are being enhanced through policy!
Contact