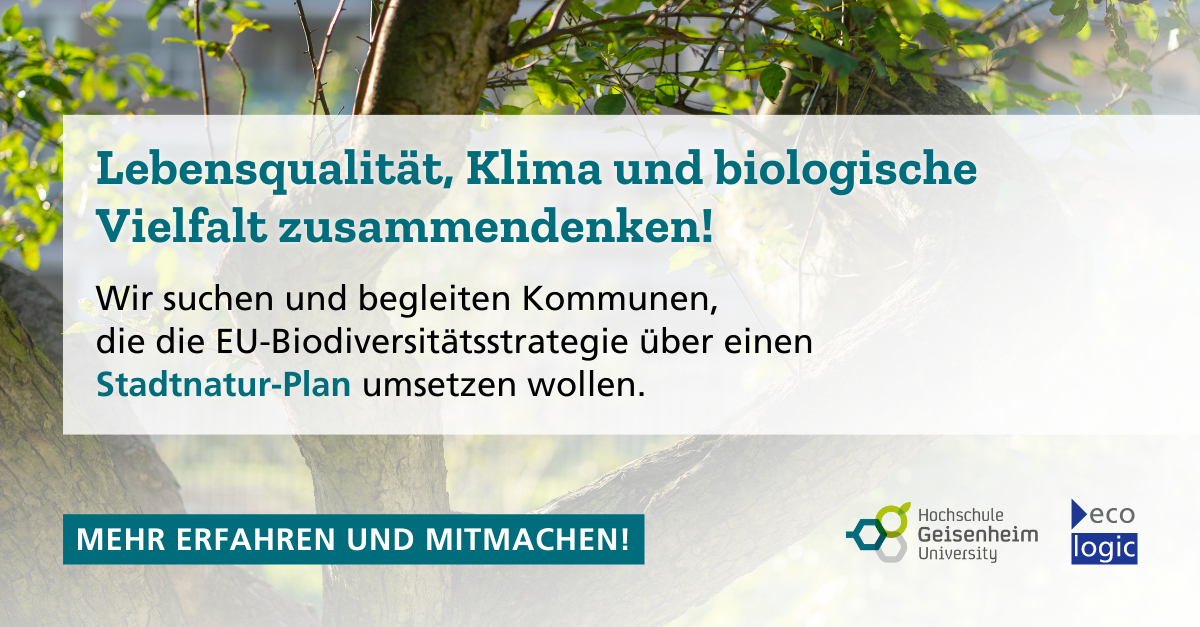 Wanted! Municipalities Interested in Implementing the EU Biodiversity Strategy for 2030 by Means of Urban Greening Plans
News

Date

-

Location

Berlin, Germany
European cities are to implement the EU Biodiversity Strategy for 2030 with ambitious urban nature plans. Geisenheim University and Ecologic Institute are looking for municipalities that want to find out to what extent their open space concepts, biodiversity strategies, climate adaptation concepts, etc. can be considered an Urban Greening Plan, or how they can develop an Urban Greening Plan. What we offer is to provide advice and guidance to help you develop lessons that can be shared with other municipalities.
Please register by the end of July 2023 by contacting: Lena Enderich at lena.enderich(at)hs-gm.de
The EU Biodiversity Strategy 2023 calls for ambitious Urban Greening Plans to be implemented in all European cities with more than 20,000 inhabitants. The Urban Greening Plans are intended as integrated open space strategies that contribute to the well-being of the population, the protection of biodiversity, and climate adaptation and mitigation. With Urban Greening Plans, municipalities commit to biodiversity protection, climate protection, and good urban living, and take responsibility in addressing vital humanity challenges. Urban Greening Plans, due to their complexity, should be developed collaboratively across disciplines and in partnership with civil society, academia, and business. This is how they can contribute to sustainable urban development and bring together open space planning, climate change mitigation and adaptation, urban nature conservation, and urban planning.
As part of the BioVibeS project (Considering biodiversity in urban development funding), Geisenheim University (HGU) and Ecologic Institute are drawing up recommendations for municipalities on how best to take biodiversity into account in areas eligible for urban development funding. Together, they support the implementation process of the Urban Greening Plans in Germany. A guide with recommendations for the implementation of Urban Greening Plans in German cities is scheduled for publication by the end of the year, highlighting added value and different implementation paths.
Contact