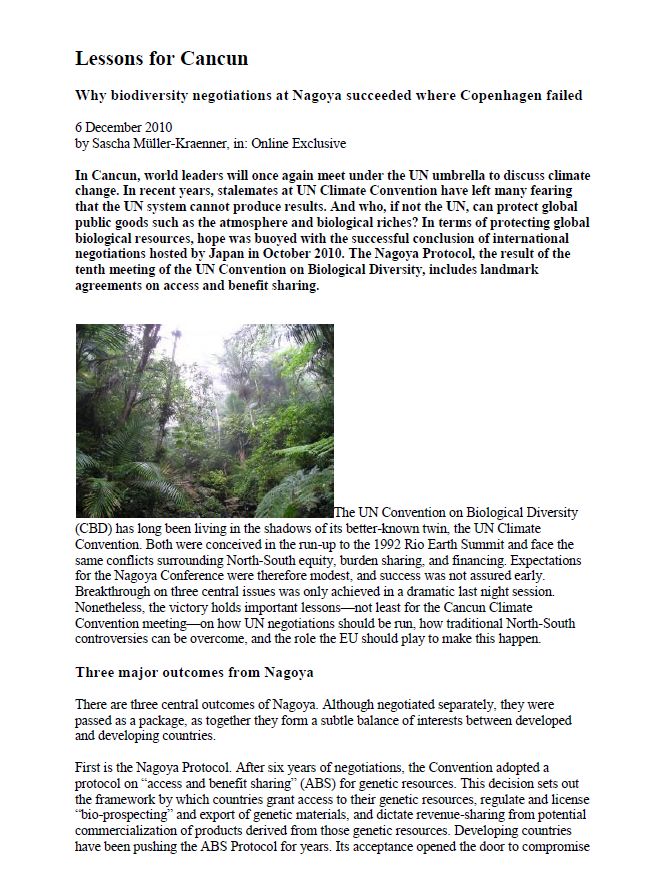 Lessons for Cancun: Why biodiversity negotiations at Nagoya succeeded where Copenhagen failed
Publication

Citation

Müller-Kraenner, Sascha 2010: "Lessons for Cancun: Why biodiversity negotiations at Nagoya succeeded where Copenhagen failed". Internationale Politik, Global Edition, online exclusive.
In this article, the online edition of IP Global, Germany's leading foreign policy magazine, Sascha Müller-Kraenner, Senior Policy Advisor of Ecologic Institute, looks at the outcomes of the COP 10 of the UN Convention on Biological Diversity (UNCBD) in Nagoya, Japan, and the reasons behind them. His analysis points to opportunities on the road ahead for the international climate negotiations beyond the UNFCCC COP 16 in Cancun, Mexico, at the end of 2010.
The UN Convention on Biological Diversity (CBD) has long been living in the shadows of its better-known twin, the UN Climate Convention (UNFCCC).  Both were conceived in the run-up to the 1992 Rio Earth Summit and face the same conflicts surrounding North-South equity, burden sharing, and financing.  Expectations for the Nagoya Conference were therefore modest, and success was not assured early.  Breakthrough on three central issues was only achieved in a dramatic last night session. Nonetheless, the victory holds important lessons – not least for the Cancun Climate Convention meeting – on how UN negotiations should be run, how traditional North-South controversies can be overcome, and the role the EU should play to make this happen.
In summary, the Nagoya talks displayed a number of functioning negotiating coalitions, most importantly the OECD countries aligned with the European Union and the G77 led strategically by the new BASIC coalition of emerging economies. The absence of the US begs the question whether future compromise on climate change can only be reached by having the EU and leading emerging economies like China and India reaching out to each other and creating some waiting space for the US outside official UN structures.
The success of Nagoya bodes well for two intense years of international environmental negotiations. After the Cancun climate summit in December 2010, negotiations for a comprehensive global climate regime will resume ahead of the next UN climate conference in Durban, South Africa in late 2011.  If agreement in Durban remains elusive, the 20th anniversary conference of the 1992 Earth Summit in Rio 2012 will provide another opportunity. Rio 2012 will also see efforts to overhaul today's dysfunctional global environmental governance structure, as well as a roadmap for transformation towards "green economy" models.
Before Nagoya, one heard many a quiet whisper about a UN Climate and Biodiversity stalemate.  However, there may now be new rumours forecasting that the global climate deal – that has been thus far so difficult to achieve – may be signed at a summit in Beijing later this decade.
Contact
Sascha Müller-Kraenner
Board Member, Ecologic Institute Europe
Founding Director, Ecologic Institute, Washington DC