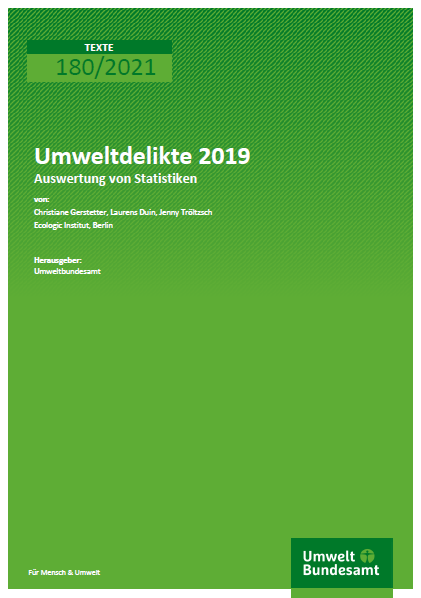 Umweltdelikte 2019
Auswertung von Statistiken
Publication

Citation

Gerstetter, Christiane; Duin, Laurens; Trötzsch, Jenny (2020): Umweltdelikte 2019. Auswertung von Statistiken. Dessau-Roßlau: Umweltbundesamt.
This publication provides a quantitative overview of the development and status of environmental crime in Germany between 2010 and 2019, based on data from the police crime statistics ("Polizeiliche Kriminalstatistik") and the Federal Statistical Office's criminal prosecution statistics ("Strafverfolgungsstatistik"). The report provides both, an overview of general trends and an in-depth account of individual environmental offences. In addition, the publication contains data on administrative offences relating to trafficking of protected species. The report was prepared by a team from Ecologic Institute on behalf of the German Federal Environment Agency.
The main findings are as follows:
The number of known cases for all environmental offences dropped by 8 % between 2010 and 2019, from 21,546 in 2010 to 19,755 in 2019, continuing the trend noted in the previous edition of the "Environmental Offences" publication. The number of cases had already decreased between 2004 and 2016, but by 32 % in that period. The number of known cases of all offences recorded in the PKS also decreased by 8 % between 2010 and 2019.
The reasons for the decreasing number of offences recorded by the police could be both an improved awareness of the rules and an improved actual compliance with the rules, as well as reduced capacities for investigations, prosecution and law enforcement in the responsible authorities and a change in criminal complaint behaviour. In the literature, however, it is assumed that the reduced capacities for prosecution and enforcement of environmental law in the competent authorities are the decisive cause.
In 2019, 39 % of all known cases of environmental offences were offences of unlawful handling of waste (§ 326 except Section 2 of the Criminal Code). Offences under the Animal Protection Act had a share of 35 %, water pollution a share of 12 %. These three types of offences together thus comprised a share of 86 % of all known cases of environmental offences in 2019. This roughly corresponds to the situation in 2016.
The clearance rate for environmental offences only changed insignificantly between 2010 and 2019. It was between 58 % and 62 % every year between 2010 and 2019. It was slightly higher than the clearance rate for overall crime in Germany.
The publication continues the series "Environmental Offences" published by the UBA, the last edition of which was published in 2018 as "Environmental Offences 2016".
Contact