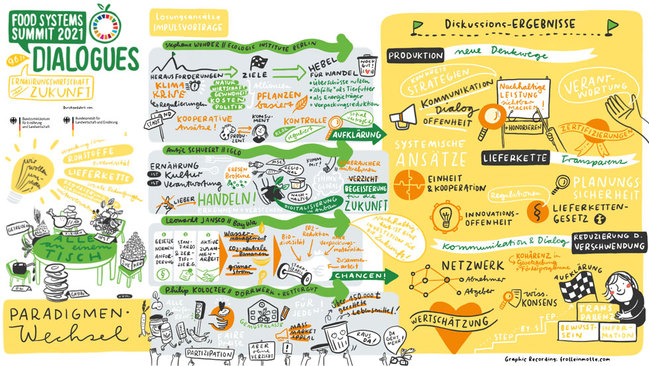 German National Dialogue "Pathways to Sustainable Food Systems"
Summary and Outlook
Project

Duration

-
The transformation of food systems to promote sustainable and healthy nutrition is one of the central challenges for the future in order to achieve the UN Sustainable Development Goals – in Germany and worldwide.
The UN Food Systems Summit held in September 2021 aimed to identify ways to make food systems sustainable at the global level. In the forefront of the summit, almost all countries in the world, including Germany, held their own regional and national dialogues – so-called "Food System Dialogues".
The German National Dialogue on "Pathways to Sustainable Food Systems" organised by the Federal Ministry of Food and Agriculture (BMEL) took place digitally as a launch event from the 8th to the 10th of June 2021. In this context, experts discussed future visions for sustainable food systems in five topic areas:
costs and benefits of environmentally and socially sustainable production
requirements for sustainable agricultural food production
sustainable food systems in urban and rural areas: requirements for infrastructures
future of the food economy
future diets – more plant-based
The National Dialogue marked the start of a long-term process which – coordinated by the Federal Agency for Agriculture and Food (BLE) – will be continued beyond the UN Food Systems Summit in order to involve stakeholders and coordinate activities.
In order to prepare the further activities of this process, it is important to evaluate the results of the National Dialogue and, based on this, to derive conclusions and recommendations for action for the follow-up process.
The project "Summary and Outlook of the National Dialogue 2021 'Pathways to Sustainable Food Systems'", conducted by the Ecologic Institute, aims to analyse the results, especially for topics "future of the food economy" and "future diets – more plant-based". Experiences from existing dialogue processes and from the development of food strategies within and outside Germany will also be incorporated.
Based on the analysis, conclusions for the further process will be derived. The focus is on aspects that are within the responsibility of the German Ministry for Agriculture (BMEL and BLE as their agency) and other federal policy actors.
Contact