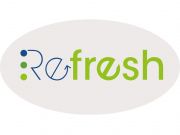 Resource Efficient Food and dRink for the Entire Supply cHain (REFRESH)
Project

Research Program

Duration

-
Across the globe, nearly 30% of food is wasted throughout the agrifood supply chain. REFRESH ("Resource Efficient Food and dRink for the Entire Supply cHain") was an EU Horizon 2020 funded project taking action against food waste. Twenty-six partners from 12 European countries and China worked towards the project's goal to contribute to Sustainable Development Goal 12.3 of halving per capita food waste at the retail and consumer level and reducing food losses along production and supply chains.
About REFRESH Video
Reducing food waste is a precondition for sustainable food systems
If food waste were a country, it would be the third largest in the world in terms of its greenhouse gas emissions. A reduction of food waste both in and out of home is, together with moving to healthier diets, considered as the most significant demand-side measure for reducing the carbon impacts of the food system.
Objectives and activities
REFRESH's key objectives were to:
Build a pan-European evidence base exploring and explaining the factors influencing current 'sub-optimal' consumer and business practice in order to support effective interventions.
Provide better estimations of the environmental impacts of food waste and benefits of avoided food waste.
Design and develop technological innovations to improve valorisation of food waste and surplus food, e.g. from food processing.
Develop strategic agreements to reduce food waste with governments, business and local stakeholders in five countries: Spain, Germany, Hungary, the Netherlands and China. Within these countries, participating stakeholders tested new approaches to reduce food waste.
Formulate EU-level policy recommendations and support the implementation of national food waste policy frameworks.
The REFRESH final results brochure and a concluding video about the project results provides an overview of the work undertaken within the project including key results for each of the seven working areas of REFRESH:
Understanding consumer behaviour
Development of voluntary agreements in 4 Member States
EU policy options to reduce food loss and food waste
Understanding food waste through behavioural economics
Environmental and cost dimensions of food waste
Valorisation options of waste streams and co-products
Increasing impact through communication activities
An overview of all results can be found online on the REFRESH website.
Impact through a multi-stakeholder partnership
Led by Wageningen UR, the project ran from 2015 until 2019. The REFRESH consortium represented a wide European and Chinese partnership among leading universities, research institutes, private businesses, governments, civil society and other actors and stakeholders.
Ecologic Institute as a key partner
Ecologic Institute was leading REFRESH's communication and dissemination activities, undertook research about food waste related consumer behavior change and was a key partner in developing policy recommendations within REFRESH.
More specifically it:
authored a study how policy makers can contribute to the reduction of consumer food waste. The REFRESH policy brief "Reducing consumer food waste" encourages policy makers to implement campaigns influencing social norms and to consider regulatory, economic and nudging approaches. It also underlined the need for an integrated approach to food waste reduction, relating it to health policies, the economic framework, resource efficiency and waste policies. 
provided an analysis of some of the most relevant EU policy areas addressing food waste (waste and resource policy, food safety and hygiene, bioenergy, agriculture and fisheries, date labelling, etc.), demonstrating that food waste is the symptom of a dysfunctional food system at the interface between several policies. The challenges show that an integrated food policy perspective is essential and that operating in silo hinders synergies and increases trade-offs. Furthermore, a policy defining the overall EU objectives, strategies and instruments concerning food in general (not only food waste), is a needed step to address many of the trade-offs and to increase of synergies.
tremendously increased outreach and impact of the project results. This can be illustrated by the unusual high number of visitors on the website (over 500.000 page views), participants of events (43 events in eight countries with more than 4000 visitors) or the viral REFRESH "Food Waste Solution Contest" with more than 60.000 votes. The evaluation of feedback from participants showed that REFRESH workshops and conferences were valued for their innovative approach and interactive elements (including art, design, live pigs, disco chop, photo props etc. to communicate results) as well as for their high quality of research results that were presented and summarised according to the needs of scientific and practice stakeholders. The events also enabled informal networking and interaction through speed dating, excursions and participative group working phases.
According to the EU Commission, REFRESH was also among the nine projects that contributed to the development of the EU Farm to Fork Strategy. 
A detailed overview of REFRESH's communication activities as well as an assessment of their outreach and impact is given within the report "Final report on dissemination and exploitation of REFRESH results".
Contact